August 23, 2018 - DCS recognized as technology innovator in child welfare

DCS honored along with tech giants in receiving national award
Darren DaRonco, Public Information Officer
602.255.2564
Phoenix (August 23, 2018)-
The Arizona Department of Child Safety (DCS) was recently recognized as a national leader in child welfare technology innovation.
DCS received IDG's prestigious 2018 CIO 100 Award along with international companies such as IBM, Micron Technologies, Verizon and dozens of other business and technology leaders.
"Three years ago, we developed a vision to transform DCS into a technology leader," said DCS Director Greg McKay. "This award is a testament to our employees and their determination to make that vision a reality."
DCS received the award after being one of the first child welfare agencies in the nation to overhaul its child welfare operating system, and to implement a secure, cloud-based platform so 1,400 caseworkers can utilize tablets to serve families more efficiently.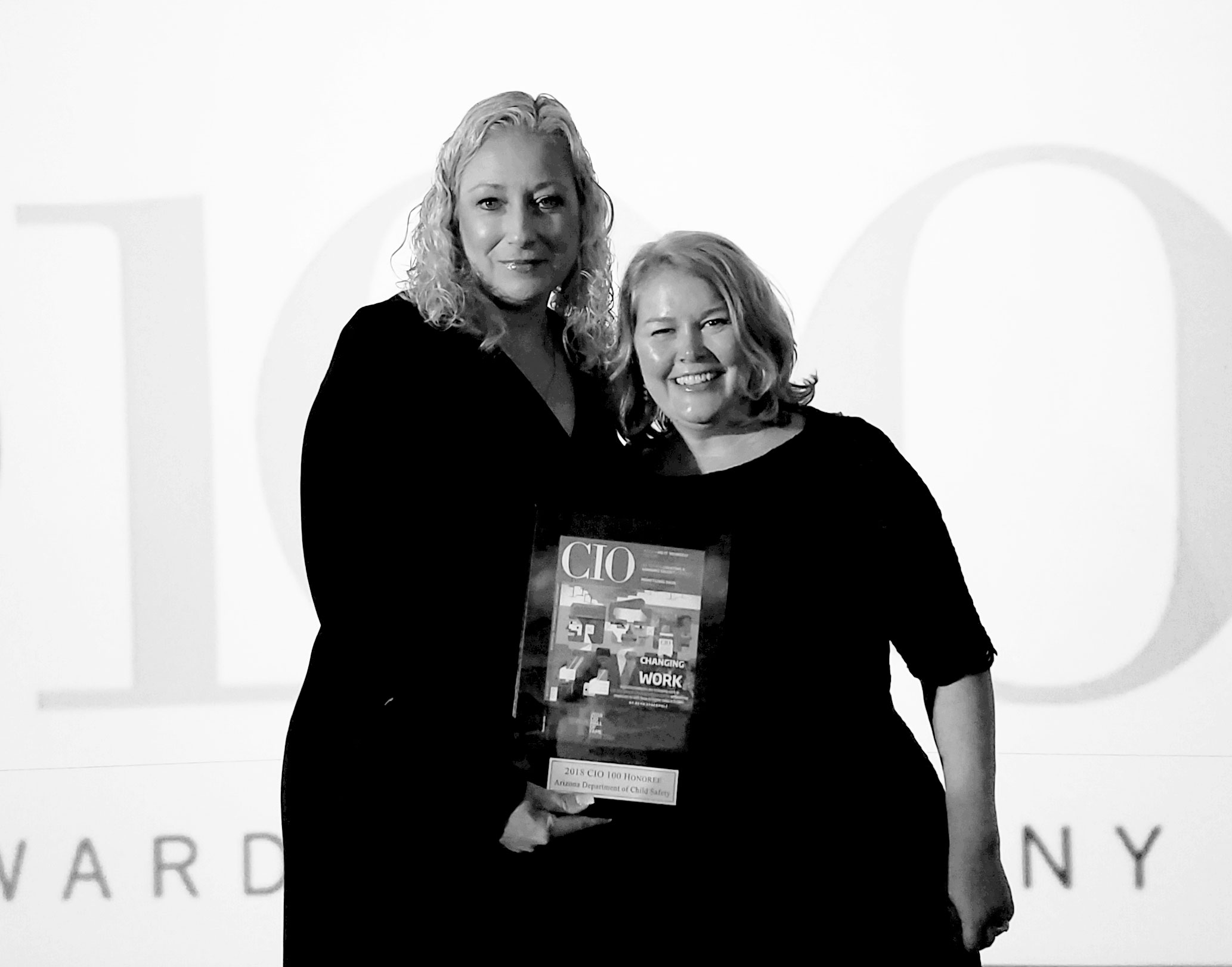 Pictured :  DCS Deputy Director Shalom Jacobs and DCS CIO Linda Jewell
receive the CIO 100 Award
Benefits of this transformation include:
●        Improved caseworker efficiency by 20 percent
●        Increased caseworker time spent with children and families
●        Enhanced service quality and case outcomes
●        Improved the quality of all data collected
"We wanted to remove outdated technology as a barrier for child welfare," said DCS Chief Information Officer Linda Jewell, who received the CIO 100 Award during a ceremony on August 15 in Rancho Palos Verdes, California. "We developed these innovative solutions to transform how caseworkers interact with families because we wanted our workers devoting more time to addressing the needs families, instead of filling out paperwork." 
The CIO 100 Award is just the most recent tech award for DCS.
In May 2018, Linda Jewell was named a StateScoop 50 State Leadership of the Year Award Finalist.
In August 2018, the National Association of State Chief Information Officers (NASCIO) announced DCS was a finalist for its Digital Government: Government to Citizen Category Award. NASCIO will announce the winners and honor the finalists at a ceremony in October.
DCS also won a fourth national technology award which will be announced in September 2018.
The CIO Award Announcement can be read here: CIO Announcement
ABOUT DIRECTOR GREGORY MCKAY
Gregory A. McKay is a twenty-year veteran of Law Enforcement with an emphasis on criminal investigations of violent crime. He was awarded Arizona's Investigator of the Year for solving many high-profile child murder cases. As a former Arizona foster parent, he understands the lasting emotional and physical effects of abuse to a child. In 2013, he was awarded Childhelp USA's Heart of an Angel Award, recognizing his distinguished career in child advocacy, investigative expertise, and removal of child predators. McKay was appointed Director of DCS by Governor Douglas A. Ducey on February 10, 2015.
Director McKay has led several breakthrough initiatives for the department. Under his leadership, DCS has successfully completed the backlog of uninvestigated cases that had plagued the department for years. The department also safely reduced the number of children in state foster care by 19% between March 2016 and January 2018, thus reversing a ten-year growth trend of 92%. By eliminating hotline hold times, reducing staff caseloads, decreasing congregate care and increasing family and community engagement in the service of the state's most vulnerable children, the state is poised to meet Director McKay's goal of making Arizona the safest place in the country for children to grow and thrive. In January 2018, Director McKay received the Excellence for Children Award for Exceptional Leadership from Casey Family Programs for his efforts in spearheading Arizona's dramatic child welfare turnaround.
ABOUT THE DEPARTMENT OF CHILD SAFETY (DCS)
The Department of Child Safety is dedicated to the vision that "Children thrive in family environments free from abuse and neglect." As highly motivated and caring public servants, the DCS team is committed to fulfilling this mission with excellence, providing safety and well-being for the most vulnerable population in Arizona - our children. If you suspect child abuse, call 888-SOS-CHILD.