January 10, 2018 - DCS Director Greg McKay receives national award for turning around Arizona's child welfare system
DCS Director Greg McKay receives national award for turning around Arizona's child welfare system
PHOENIX (January 10, 2018) – 
A national foundation has recognized Department of Child Safety Director Greg McKay for spearheading Arizona's dramatic child welfare turnaround.
Casey Family Programs awarded Director McKay its Casey Excellence for Children Award for exceptional leadership on Tuesday evening during an awards reception in Seattle, Washington.
"Every year, we look forward to sharing inspiring stories of impressive individuals from a variety of backgrounds who work to improve child welfare throughout our great country," said David C. Mills, chair of the Board of Trustees of Casey Family Programs. "It is our absolute honor to recognize Director McKay for advocating so strongly on behalf of children in foster care and their families, and for giving them greater opportunities to thrive."
Director McKay inherited a department in distress when he assumed his role as head of the agency in 2015.
The department faced a daunting 16,000 case backlog, a burgeoning number of children entering foster care and overwhelming worker caseloads.
To tackle these issues, Director McKay introduced a "lean-inspired" management system which allowed DCS employees to track weekly progress, to quickly shift resources to high-need areas, and to measure results to identify what was working and what was not.
As a result, the backlog has been eliminated, the foster care population has dropped 19 percent, and worker caseloads have decreased from 145 reports per worker to 16 reports per worker.
"Just two years ago, the problems at the state's new child safety department seemed insurmountable," said Arizona Governor Doug Ducey. "But because of the committed service of our state's child safety workers, non-profit organizations and the faith-based community, Arizona is the best in the country for its foster care reduction."
Casey Family Programs is a Seattle-based national foundation dedicated to safely reducing the need for foster care and building Communities of Hope for children and families.
The awards recognize outstanding individuals who have demonstrated distinguished work, exceptional leadership and tireless dedication in improving child welfare in America.
"I am humbled and honored to receive this prestigious award," said Director McKay. "But I am merely the recipient. The true earners of this award are all the men and women of DCS for their tireless efforts in protecting Arizona's children. It has been a privilege to lead so many dedicated people who rose to the challenge during a time when the odds seemed stacked against us."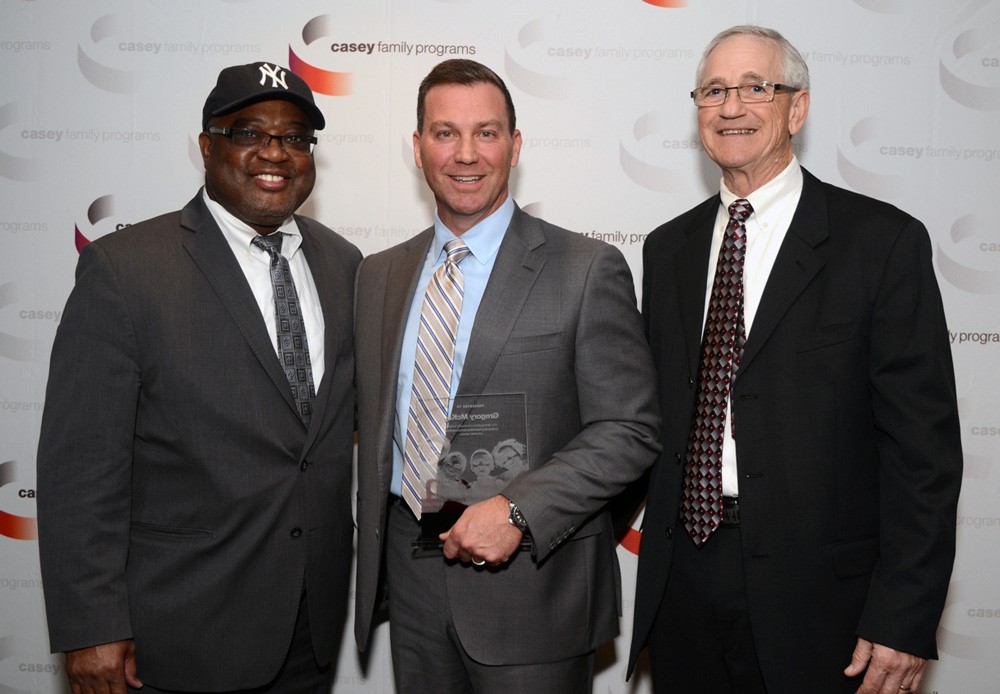 Caption: Arizona Department of Child Safety Director Greg McKay receives Casey Excellence for Children Award from Casey Family Programs President and CEO, Dr. William C. Bell and David C. Mills, Board Chair of Casey Family Programs.
                                                          ###
ABOUT DIRECTOR GREGORY MCKAY

Gregory A. McKay is a twenty year veteran of Law Enforcement with an emphasis on criminal investigations of violent crime. He was awarded Arizona's Investigator of the Year for solving many high-profile child murder cases. As a former Arizona foster parent, he understands the lasting emotional and physical effects of abuse to a child. In 2013, he was awarded Childhelp USA's Heart of an Angel Award, recognizing his distinguished career in child advocacy, investigative expertise, and removal of child predators. McKay was appointed Director of DCS by Governor Douglas A. Ducey on February 10, 2015.
Director McKay has led several breakthrough initiatives for the department. Under his leadership, the DCS has successfully completed the backlog of uninvestigated cases that had plagued the department for years. The department also safely reduced the number of children in state foster care by 10% in 2016, thus reversing a ten year growth trend of 92%. By eliminating hotline hold times, reducing staff caseloads, decreasing congregate care and increasing family and community engagement in the service of the state's most vulnerable children, the state is poised to meet Director McKay's goal of making Arizona the safest place in the country for children to grow and thrive.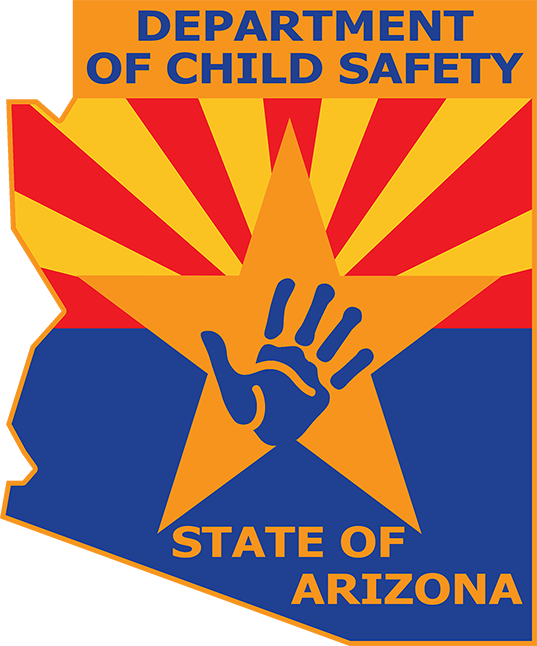 ABOUT THE DEPARTMENT OF CHILD SAFETY (DCS)
The Department of Child Safety is dedicated to the vision that "Children thrive in family environments free from abuse and neglect." As highly motivated and caring public servants, the DCS team is committed to fulfilling this mission with excellence, providing safety and well-being for the most vulnerable population in Arizona - our children. If you suspect child abuse, call 888-SOS-CHILD.