May 8, 2018 - DCS Director receives national award for his service to protecting Arizona's children
DCS Director receives national award for his service to protecting Arizona's children
Darren DaRonco, Public Information Officer
602.255.2564
PHOENIX (May 8, 2018) – 
DCS Director Greg McKay received Childhelp's prestigious Voice of Children Award for his extensive work in protecting Arizona's children from abuse and neglect.
"Arizona is lucky to have an individual as hard-working and kind-hearted as Greg," said Childhelp co-founder, president and vice chairman, Yvonne Fedderson.
Fedderson and Childhelp co-founder and CEO Sara O'Meara presented the award to Director McKay during a Childhelp National Day of Hope award ceremony in Washington, D.C. on April 23, 2018.
"The fierce devotion with which he has served our state is unparalleled," said O'Meara. "We are truly honored to call him a friend."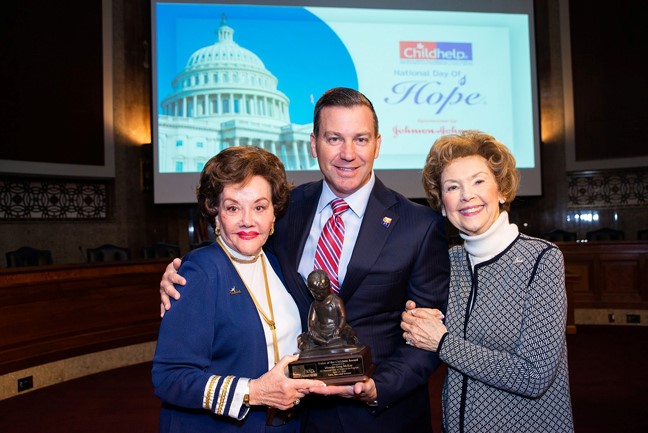 Pictured from left: Sara O'Meara, Childhelp co-founder and CEO; DCS Director Greg McKay; and Yvonne Fedderson, Childhelp co-founder and president.
The ceremony was co-chaired by Senator John McCain (R-AZ) and Senator Dianne Feinstein (D-CA).
"I am honored to receive this award," Director McKay said. "But this award was earned by each and every DCS employee who has dedicated themselves to protecting Arizona's children. It is truly a privilege to lead so many extraordinary people." 
The Childhelp National Day of Hope, was created from a congressional resolution in 2000. It is observed on the first Wednesday of April – National Child Abuse Prevention Month – with the goal of unifying individuals across the country to make a commitment to join the fight against child abuse and to reflect on the young lives lost each year. 
It is estimated that five children die each day from abuse and neglect in the United States, and for nearly six decades, Childhelp has worked to combat this epidemic. The Childhelp National Child Abuse Hotline 1-800-4-A-CHILD, is headquartered in Phoenix and is staffed by professional crisis counselors 24 hours a day, 365 days a year.  These counselors offer crisis intervention as well as information, literature, and referrals to thousands of emergency, social service, and support resources. 
About Childhelp
Founded by Sara O'Meara and Yvonne Fedderson in 1959, Childhelp has brought the light of hope and healing into the lives of countless children as a leading national nonprofit organization dedicated to helping at-risk children. Childhelp's programs and services include residential treatment services, children's advocacy centers, therapeutic foster care, group homes and child abuse prevention, education and training. Childhelp created the Childhelp National Day of Hope®, held each April during National Child Abuse Prevention Month that mobilizes Americans to join the fight against child abuse. For more information, visit www.childhelp.org.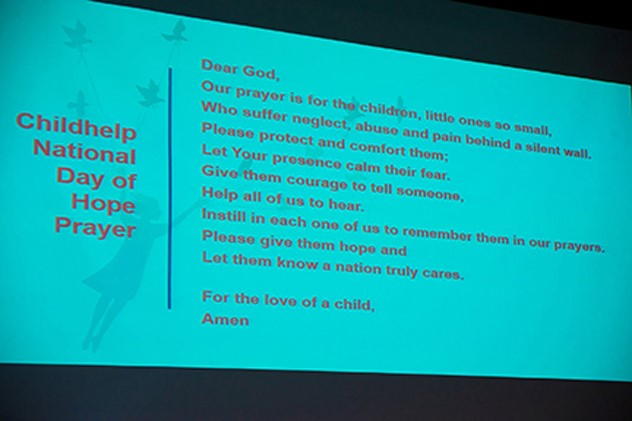 ABOUT DIRECTOR GREGORY MCKAY
Gregory A. McKay is a twenty-year veteran of Law Enforcement with an emphasis on criminal investigations of violent crime. He was awarded Arizona's Investigator of the Year for solving many high-profile child murder cases. As a former Arizona foster parent, he understands the lasting emotional and physical effects of abuse to a child. In 2013, he was awarded Childhelp USA's Heart of an Angel Award, recognizing his distinguished career in child advocacy, investigative expertise, and removal of child predators. McKay was appointed Director of DCS by Governor Douglas A. Ducey on February 10, 2015.
Director McKay has led several breakthrough initiatives for the department. Under his leadership, DCS has successfully completed the backlog of uninvestigated cases that had plagued the department for years. The department also safely reduced the number of children in state foster care by 19% between March 2016 and January 2018, thus reversing a ten-year growth trend of 92%. By eliminating hotline hold times, reducing staff caseloads, decreasing congregate care and increasing family and community engagement in the service of the state's most vulnerable children, the state is poised to meet Director McKay's goal of making Arizona the safest place in the country for children to grow and thrive. In January 2018, Director McKay received the Excellence for Children Award for Exceptional Leadership from Casey Family Programs for his efforts in spearheading Arizona's dramatic child welfare turnaround.
ABOUT THE DEPARTMENT OF CHILD SAFETY (DCS)
The Department of Child Safety is dedicated to the vision that "Children thrive in family environments free from abuse and neglect." As highly motivated and caring public servants, the DCS team is committed to fulfilling this mission with excellence, providing safety and well-being for the most vulnerable population in Arizona - our children. If you suspect child abuse, call 888-SOS-CHILD.