About AZDCS
Our Vision: Children thrive in family environments free from abuse and neglect.

Our Mission: Successfully engage children and families to ensure safety, strengthen families, and achieve permanency.
Our guiding core principles are
Safety: All Arizona's children are safe and protected from harm.
Permanency: All Arizona's children live in safe, loving forever families.
Well-Being: All Arizona's children are given the opportunity to thrive through the support of strong families and their communities.
Our Values Create the DCS Culture That Drives Our Processes
Child-Centered: Children belong with families – their own when it is safe to do so and when it's not, with a safe, permanent family who can meet their unique needs and will maintain their supporting, meaningful connections to continue positive values, beliefs, and their cultural legacies.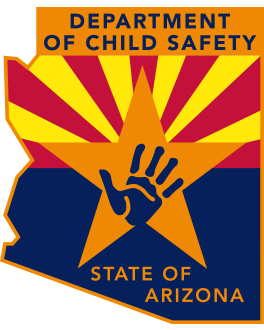 Family-Focused: Families have the primary responsibility for raising their children and keeping them safe. Families are the experts regarding their own strengths and needs and will have a voice and decision-making role regarding decisions that affect them and their children.
Successful Engagement: Children, youth, and families are best served when child welfare staff respect the family, actively listen to them, and invite participation in decision-making to achieve positive outcomes.
Partnerships and Community: The entire community shares the responsibility of keeping children safe and protected from abuse and neglect.
Professional Environment and Workforce Excellence: Our professional competence will be demonstrated by an organization and workforce that proactively responds to the changing needs of communities and provides respectful treatment to families.
Cultural Responsiveness: All children and families have the right to be understood within the context of their own family rules, traditions, history, beliefs, and culture.
Accountability and Transparency: The child welfare system holds itself accountable to the highest standards of practice at all levels within the organization. We are transparent and responsive to our children, youth, and families as well as our staff, partners, and communities within the limits of confidentiality.