Foster - Step 1 and 2 - Let's Get to Know You
Create a Brighter Future for Arizona Children
There are many Arizona children in need of safe, supportive, and loving homes to help them thrive.
That's where in.
Start Your Journey
Fill out this form to start the process of becoming a foster or adoptive parent.
Basic Information
Agency Preferences
By submission of the message I/we authorize the Department of Child Safety (DCS) to release the above information on a need to know basis to other child placing agencies and the DCS contractors, as needed, to begin the foster home licensing or adoption certification process.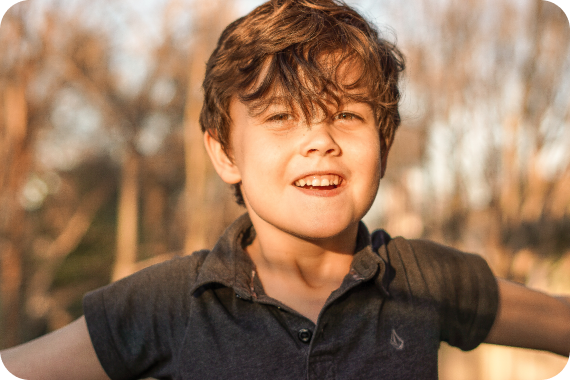 Why consider fostering or adoption?
Children come into the care of the state through absolutely no fault of their own. And through fostering or adoption, you're able to help provide a caring, nurturing environment where they can heal from past experiences and trauma and grow to their fullest potential. People who are called to foster or adopt all share one thing in common--the desire to help the most vulnerable children thrive.
Fostering, Adoption, Kinship Care? What's the difference?
Kinship Care
Kinship care is the temporary placement of a child with a family member or someone close to the family. The ultimate goal of kinship care is for the child to reunify with their birth family.
Fostering
Fostering is the temporary placement of a child in your care after their removal from an unfit living environment. The ultimate goal of foster care is reunification with their birth family.
Adoption
Adoption is the permanent placement of a child in your care. You become the legal guardian of the child, and the birth family's involvement in the child's life may vary from case to case.
I'm ready to get started!
Agency
I Live In...:

Maricopa, Pima, Pinal

DCS Performance Indicator:

No

I am interested in learning more about...:

Military Families, LGBTQ Families, Single Parents

Is this agency Spanish speaking?:

Yes

Does this agency have a preference toward married couples?:

No Preferences

Does this agency work with LGBTQ+ community members?:

Yes

Is this a Christian based agency?:

No

Is this a Catholic based agency?:

No

I Live In...:

Maricopa, Pinal

DCS Performance Indicator:

No

I am interested in learning more about...:

Military Families, Spanish Speaking Families, LGBTQ, Single Parents, *Therapeutic Foster Care

Is this agency Spanish speaking?:

Yes

Does this agency have a preference toward married couples?:

Yes

Does this agency work with LGBTQ+ community members?:

Yes

Is this a Christian based agency?:

No

Is this a Catholic based agency?:

No

Title:

A Place to Call Home

I Live In...:

Apache, Coconino, Gila, Maricopa, Mohave, Navajo, Pima, Pinal, Yavapai

DCS Performance Indicator:

No

I am interested in learning more about...:

Military Families, Spanish Speaking Families, LGBTQ Families, Single Parents, *Therapeutic Foster Care

Is this agency Spanish speaking?:

Yes

Does this agency have a preference toward married couples?:

No Preferences

Does this agency work with LGBTQ+ community members?:

Yes

Is this a Christian based agency?:

No

Is this a Catholic based agency?:

No

I Live In...:

Maricopa, Pinal

DCS Performance Indicator:

No

I am interested in learning more about...:

Military Families, Spanish Speaking Families, Families Speaking ASL, LGBTQ Families, Single Parents

Is this agency Spanish speaking?:

Yes

Does this agency have a preference toward married couples?:

No Preferences

Does this agency work with LGBTQ+ community members?:

Yes

Is this a Christian based agency?:

No

Is this a Catholic based agency?:

No

Title:

Agape Adoption Agency of Arizona, Inc.

DCS Performance Indicator:

No

I am interested in learning more about...:

Military Families, Spanish Speaking Families, LGBTQ, Single Parents, Married Couples (1 year plus)

Is this agency Spanish speaking?:

Yes

Does this agency have a preference toward married couples?:

No Preferences

Does this agency work with LGBTQ+ community members?:

No

Is this a Christian based agency?:

Yes

Is this a Catholic based agency?:

No

Title:

Arizona Baptist Children's Services

I Live In...:

Apache, Cochise, Coconino, Graham, Maricopa, Mohave, Navajo, Pima, Yavapai, Yuma

DCS Performance Indicator:

No

I am interested in learning more about...:

Military Families, Spanish Speaking Families, Married couples

Is this agency Spanish speaking?:

Yes

Does this agency have a preference toward married couples?:

Yes

Does this agency work with LGBTQ+ community members?:

No

Is this a Christian based agency?:

Yes

Is this a Catholic based agency?:

No

Title:

Arizona Faith and Families

DCS Performance Indicator:

No

I am interested in learning more about...:

Military Families, Spanish Speaking Families, Married Couples (1 year plus)

Is this agency Spanish speaking?:

Yes

Does this agency have a preference toward married couples?:

Yes

Does this agency work with LGBTQ+ community members?:

No

Is this a Christian based agency?:

Yes

Is this a Catholic based agency?:

No

Title:

Arizona's Children Association

I Live In...:

Apache, Cochise, Coconino, Gila, Graham, Greenlee, La Paz, Maricopa, Mohave, Navajo, Pima, Pinal, Yavapai, Yuma

DCS Performance Indicator:

No

I am interested in learning more about...:

Military Families, Spanish Speaking Families, LGBTQ Families, Single Parents, *Therapeutic Foster Care

Is this agency Spanish speaking?:

Does this agency have a preference toward married couples?:

No Preferences

Does this agency work with LGBTQ+ community members?:

Yes

Is this a Christian based agency?:

No

Is this a Catholic based agency?:

No

Title:

Brighter Heights Arizona

I Live In...:

Apache, Cochise, Coconino, Gila, Graham, Greenlee, La Paz, Maricopa, Mohave, Navajo, Pima, Pinal, Santa Cruz, Yavapai, Yuma

DCS Performance Indicator:

No

I am interested in learning more about...:

Therapeutic Foster Care

Is this agency Spanish speaking?:

Does this agency have a preference toward married couples?:

Does this agency work with LGBTQ+ community members?:

Is this a Christian based agency?:

Is this a Catholic based agency?:

No

DCS Performance Indicator:

No

I am interested in learning more about...:

Spanish Speaking Families, Military Families, Single Parents, Two-Parent Families, LGBTQ Families

Is this agency Spanish speaking?:

Yes

Does this agency have a preference toward married couples?:

No Preferences

Does this agency work with LGBTQ+ community members?:

Yes

Is this a Christian based agency?:

No

Is this a Catholic based agency?:

No

Title:

Casey Family Programs

DCS Performance Indicator:

No

I am interested in learning more about...:

Military Families, Spanish Speaking Families, LGBTQ Families, Single Parents

Is this agency Spanish speaking?:

Yes

Does this agency have a preference toward married couples?:

Yes

Does this agency work with LGBTQ+ community members?:

Yes

Is this a Christian based agency?:

No

Is this a Catholic based agency?:

No

Title:

Catholic Charities Community Services

I Live In...:

Apache, Coconino, Maricopa, Mohave, Navajo, Pinal, Yavapai

DCS Performance Indicator:

No

I am interested in learning more about...:

Military Families, Single Parents, Spanish Speaking Families, Married Couples (1 year plus), *Therapeutic Foster Care

Is this agency Spanish speaking?:

Yes

Does this agency have a preference toward married couples?:

Yes

Does this agency work with LGBTQ+ community members?:

No

Is this a Christian based agency?:

Yes

Is this a Catholic based agency?:

Yes

Title:

Catholic Community Services of Southern AZ

I Live In...:

Cochise, Gila, Graham, Greenlee, Pima, Pinal, Santa Cruz

DCS Performance Indicator:

No

I am interested in learning more about...:

Military Families, Single Parents, Married Couples (1 year plus)

Is this agency Spanish speaking?:

Yes

Does this agency have a preference toward married couples?:

Yes

Does this agency work with LGBTQ+ community members?:

No

Is this a Christian based agency?:

Yes

Is this a Catholic based agency?:

Yes

Title:

Child Crisis Arizona (Crisis Nursery)

DCS Performance Indicator:

No

I am interested in learning more about...:

Military Families, Spanish Speaking Families, LGBTQ Families, Single Parents

Is this agency Spanish speaking?:

Yes

Does this agency have a preference toward married couples?:

No Preferences

Does this agency work with LGBTQ+ community members?:

Yes

Is this a Christian based agency?:

No

Is this a Catholic based agency?:

No

Title:

Christian Family Care

I Live In...:

Cochise, Coconino, Maricopa, Pima, Pinal, Yavapai

DCS Performance Indicator:

No

I am interested in learning more about...:

Military Families, Spanish Speaking Families, Married Couples (1 year plus), *Therapeutic Foster Care

Is this agency Spanish speaking?:

Yes

Does this agency have a preference toward married couples?:

Yes

Does this agency work with LGBTQ+ community members?:

No

Is this a Christian based agency?:

Yes

Is this a Catholic based agency?:

No

Title:

Devereux Arizona Foster Care Services

I Live In...:

Maricopa, Pima

DCS Performance Indicator:

No

I am interested in learning more about...:

Therapeutic Foster Care

Is this agency Spanish speaking?:

Does this agency have a preference toward married couples?:

Does this agency work with LGBTQ+ community members?:

Is this a Christian based agency?:

Is this a Catholic based agency?:

No

I Live In...:

Cochise, Pima, Pinal, Santa Cruz

DCS Performance Indicator:

No

I am interested in learning more about...:

Military Families, LGBTQ Families, Single Parents, Married Couples

Is this agency Spanish speaking?:

Yes

Does this agency have a preference toward married couples?:

No Preferences

Does this agency work with LGBTQ+ community members?:

Yes

Is this a Christian based agency?:

No

Is this a Catholic based agency?:

No

Title:

Grace Retreat Foster Care

I Live In...:

Cochise, Pima, Pinal

DCS Performance Indicator:

No

I am interested in learning more about...:

Military Families, Spanish Speaking Families, LGBTQ Families, Single Parents

Is this agency Spanish speaking?:

Yes

Does this agency have a preference toward married couples?:

No Preferences

Does this agency work with LGBTQ+ community members?:

Yes

Is this a Christian based agency?:

No

Is this a Catholic based agency?:

No

I Live In...:

Apache, Coconino, La Paz, Maricopa, Mohave, Navajo, Pinal, Yavapai

DCS Performance Indicator:

No

I am interested in learning more about...:

Military Families, Spanish Speaking Families, LGBTQ Families, Single Parents, *Therapeutic Foster Care

Is this agency Spanish speaking?:

Yes

Does this agency have a preference toward married couples?:

No Preferences

Does this agency work with LGBTQ+ community members?:

Yes

Is this a Christian based agency?:

No

Is this a Catholic based agency?:

No

Title:

Human Services Consultants

I Live In...:

Apache, Cochise, Coconino, Gila, Graham, Greenlee, La Paz, Maricopa, Mohave, Navajo, Pima, Pinal, Santa Cruz, Yavapai, Yuma

DCS Performance Indicator:

No

I am interested in learning more about...:

Therapeutic Foster Care

Is this agency Spanish speaking?:

Does this agency have a preference toward married couples?:

Does this agency work with LGBTQ+ community members?:

Is this a Christian based agency?:

Is this a Catholic based agency?:

No

Title:

Intermountain Centers for Human Development

I Live In...:

Maricopa, Pima, Pinal, Santa Cruz, Yuma

DCS Performance Indicator:

No

I am interested in learning more about...:

Military Families, Spanish Speaking Families, LGBTQ+ Families, Single Parent Families, *Therapeutic Foster Care

Is this agency Spanish speaking?:

Yes

Does this agency have a preference toward married couples?:

No Preferences

Does this agency work with LGBTQ+ community members?:

Yes

Is this a Christian based agency?:

No

Is this a Catholic based agency?:

No

Title:

La Paloma Family Services

DCS Performance Indicator:

No

I am interested in learning more about...:

Military Families, Spanish Speaking Families, LGBTQ Families, Single Parents, *Therapeutic Foster Care

Is this agency Spanish speaking?:

Yes

Does this agency have a preference toward married couples?:

No Preferences

Does this agency work with LGBTQ+ community members?:

Yes

Is this a Christian based agency?:

No

Is this a Catholic based agency?:

No

I Live In...:

Maricopa, Navajo

DCS Performance Indicator:

No

I am interested in learning more about...:

Military Families, LGBTQ Families, Single Parents

Is this agency Spanish speaking?:

No

Does this agency have a preference toward married couples?:

No Preferences

Does this agency work with LGBTQ+ community members?:

Yes

Is this a Christian based agency?:

No

Is this a Catholic based agency?:

No

DCS Performance Indicator:

No

I am interested in learning more about...:

Military Families, Spanish Speaking Families, LGBTQ Families, Single Parents, Married Couples (1 year plus)

Is this agency Spanish speaking?:

Yes

Does this agency have a preference toward married couples?:

No Preferences

Does this agency work with LGBTQ+ community members?:

Yes

Is this a Christian based agency?:

No

Is this a Catholic based agency?:

No

Title:

Pathways of Arizona

I Live In...:

Maricopa, Pima, Yuma

DCS Performance Indicator:

No

I am interested in learning more about...:

Therapeutic Foster Care

Is this agency Spanish speaking?:

Does this agency have a preference toward married couples?:

Does this agency work with LGBTQ+ community members?:

Is this a Christian based agency?:

Is this a Catholic based agency?:

No

Title:

RISE Services Inc.

I Live In...:

Maricopa, Pima, Pinal

DCS Performance Indicator:

No

I am interested in learning more about...:

Military Families, Spanish Speaking Families, LGBTQ Families, Single Parents

Is this agency Spanish speaking?:

Yes

Does this agency have a preference toward married couples?:

No Preferences

Does this agency work with LGBTQ+ community members?:

Yes

Is this a Christian based agency?:

No

Is this a Catholic based agency?:

No

Title:

Southwest Human Development

I Live In...:

Maricopa, Pinal

DCS Performance Indicator:

No

I am interested in learning more about...:

Military Families, Spanish Speaking Families, LGBTQ Families, Single Parents

Is this agency Spanish speaking?:

Yes

Does this agency have a preference toward married couples?:

No Preferences

Does this agency work with LGBTQ+ community members?:

Yes

Is this a Christian based agency?:

No

Is this a Catholic based agency?:

No