Compassioneers

Above and Beyond for Arizona's Children
At the Arizona Department of Child Safety (DCS), each and every staff member is committed to doing the absolute most for the children and families of Arizona. What we do isn't for the faint of heart. It's for the compassionate heart. Our work requires us to have both strength and sensitivity. Passion, coupled with empathy. We know what it feels like to experience brokenness. We're tireless because we see the intrinsic value of a family unit. And we know that hope can be restored.
We are Compassioneers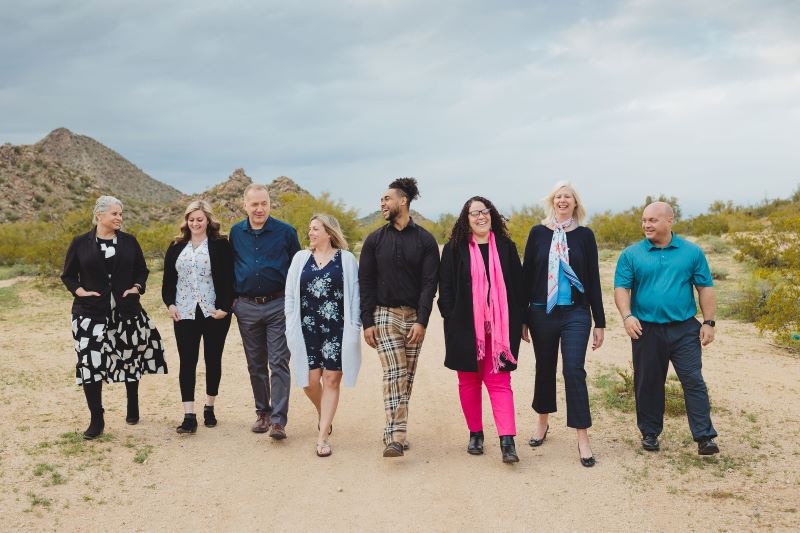 What is a Compassioneer?
Compassioneers are members of the DCS team who exemplify our values day in and day out. You may call them kind, passionate, loving, strong, sensitive, motivated, or relentless in their pursuit of what is right, we simply call them our teammates. These compassionate, empathetic and hard-working individuals don't quit until the job is done.
Meet Some of Our Compassioneers
Alexis
"She puts the family's needs first and foremost and wants the best for everyone. Alexis will speak up for her team and office so that they have every resource needed to do their jobs effectively. Even when the work is difficult and heavy, Alexis refuses to step away because her heart is full of service."
Amber
"Amber remains caring and supportive of children in times of critical situations. Amber is brave and responsive in her efforts to ensure the safety of children."
Brooke
"She is a dedicated leader who will actively address the challenges that are ever present. Brooke has a steadfast belief in the mission and vision of DCS. She values teamwork and has compassion for all of her team."
Chris
"He demonstrates compassion every day in the office and in the community, and he takes it to the next level by his actions. He is a great leader, teammate, and an amazing all-round human being."
Edwin
"Ed has been a constant supportive leader for OCWI ensuring everyone feels part of the team. His compassion for the work that we do shines through his positive attitude and endless assurance to advocate for the children in our community."
Geoffrey
"Geoffrey is the type of caseworker who puts his whole heart into his job. I've interacted with him the last several years through the Giving Tree program and he's very conscientious about providing every youth on his caseload with something special for the holidays. I can tell that he has a real relationship with these young people and they look up to him and look forward to seeing him for monthly visits."
Gillian
"There is so much to say about Gillian. Gillian is a passionate and inspirational leader. She truly cares for every family and child in Arizona and makes those around her want to be better social workers too."
Jeanette
"She is an extremely caring team member who assesses the needs of the children to find them the least restrictive setting. "
Karla
"Karla is the cornerstone of the health services for the children in our care. Her unwavering leadership supports the CHP team through challenges and change with clarity of purpose and compassion. She creates a safe space for team members to exchange ideas and improve care to connect children and families to needed health care services."
Mandy
"She has great communication with parents, children, and foster families. She demonstrates the teaming value on a daily basis working with the entire team to achieve permanency for the families she works with."
Marisol
"She works hard to give the field and providers the tools to allow our children to reach behavioral stabilization."
PK
"As a Youth Advocacy Specialist, PK has lived experience in Arizona's foster care system and he is responsible for advocating, providing outreach and engaging with youth experiencing foster care. He also supports the Permanency and Youth Services Unit to ensure a youth voice is included within DCS practice and policies."
Pauline
"For positively touching the lives of those involved in the Healthy Families Arizona program for over 20+ years, for being a model, and for empowering all home visitation program team members to excel with her sweet voice and kind heart."
Ryan
"I have watched him over the years as he not only has compassion, but is passionate about what he does. He works day in and day out and goes above and beyond the call of duty. He is kind, passionate, loving, strong, and sensitive. He knows how to handle any situation and has a humble way of speaking with families and children."
Sara
"She is dedicated, supportive and happy to help. Sara and her team puts their whole heart into the work that they do."
Tatum
"She works hard every day to make a positive change and cares about the future of children and families in DCS."
Vanessa
"Vanessa strongly advocates for her team. She puts over 100% dedication into improving existing contracts and services to have better outcomes for our families."
Yasmin
"Yasmin has the biggest heart and passion for the children and families that we serve. She goes above and beyond to make sure that kinship families have what they need to be successful. She listens to youth, works to solve their issue and truly makes them feel like they matter."