Compassioneers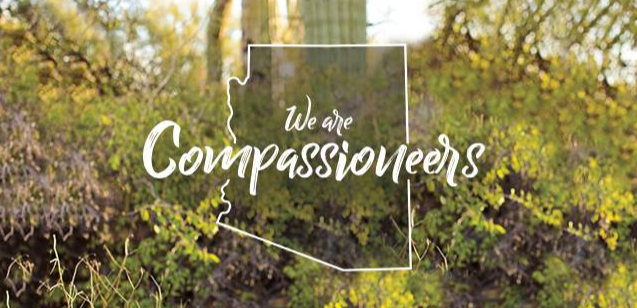 Above and Beyond for Arizona's Children
At the Arizona Department of Child Safety (DCS), each and every staff member is committed to doing the absolute most for the children and families of Arizona. What we do isn't for the faint of heart. It's for the compassionate heart. Our work requires us to have both strength and sensitivity. Passion, coupled with empathy. We know what it feels like to experience brokenness. We're tireless because we see the intrinsic value of a family unit. And we know that hope can be restored.
We are Compassioneers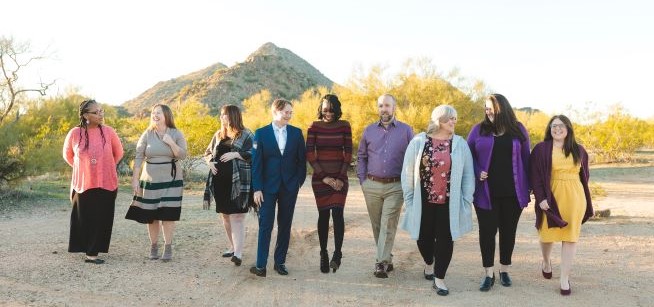 What is a Compassioneer?
Compassioneers are members of the DCS team who exemplify our values day in and day out. You may call them kind, passionate, loving, strong, sensitive, motivated, or relentless in their pursuit of what is right, we simply call them our teammates. These compassionate, empathetic and hard-working individuals don't quit until the job is done.
Meet Some of our Compassioneers
Andrea
"Andrea's work with families is impressive as she cares not only for the children on her case load, but each individual member of the family. Her approach of positive regard for each person as a human being is what makes her truly special."
Dana
"Dana leads by example by not shying away from asking tough questions and engaging in meaningful conversations to help others explore their bias. She does so from a place of compassion and without judgment with the goal of bettering the Department."
Darren
"Darren is a team player! He is always willing to help his teammates and is the first one to say, 'I can.' "
Edgardo
"Edgardo's compassion for families is evident in his every day work. He treats others with respect and kindness. Edgardo implements a non-judgmental and open-minded approach, making families feel comfortable and safe."
Eric
"Eric's approach with family is always sensitive and understanding of their needs. He goes above and beyond to keep a child safe in their home, or to place children with relatives. He presents with compassion and takes extra steps in breaking down language to help families navigate complex department and court systems."
Hannah
"She has made a big difference since taking over her team. She has increased productivity, quality of work, and teamwork."
Josie
"Josie radiates positivity and her enthusiasm is contagious. She makes others feel valued, heard, supported and safe. She loves helping others through her role as a Supervision Coach; and seeing how as they develop and succeed. So do the children and families we serve."
LaToya
"She always has a smile on her face, encouraging people she comes in contact with that it's a great day. She also will help anywhere and anyone she can. She displays a kind of selflessness that you want to be a part of."
Mario
"Mario has a positive outlook on his job tasks. He strives to treat everyone with respect and meet them where they are. He is kind, professional, and striving to make a difference by providing quality of service to the families he serves."
Marisa
"Marisa really goes out of her way to engage with the families she works with. She has sat for hours with a father after returning children to his care and helped get all of the children's appointments set. She is always available for families and always gives them her full attention."
Marti
"Marti exemplifies compassion when working with families. Through her honesty, calmness and patience, she engages families thus allowing them to feel supported and work cohesively with DCS. She creates connectedness going above and beyond focusing on the least restrictive outcome possible while still maintaining safety."
Molly
"Molly advocates for all children she is involved with to ensure our children in care receive the appropriate services for success and growth. Molly cares deeply about the children as well as DCS's policies and procedures."
Racheal
"Racheal works tirelessly to help everyone. She is constantly going out of her way to help. She spends extra time with the children on her caseload, talking to them on the phone, visiting them, providing whatever they need. When I grow up, I want to be like Racheal."
Ryan
"Ryan is a dedicated leader and advocate for his brothers and sisters experiencing foster care. He is always engaging youth and the public on issues that are important to young people, and never fails to serve when asked. Ryan is also laying the groundwork for a successful career in serving children and families. All of us at DCS are very proud of Ryan and look forward to his continued success."
Susan
"She is someone who everyone can learn from, always putting other people's needs above her own. She will always listen first and speak second. She approaches people's problems as if they are her own. Susan can find something in common with anyone she meets and accepts everyone with an open heart. Susan does this job because her heart drives her to. She does not show judgment but rather, understanding."
Vicki
"Vicki is dedicated to concise service delivery when it comes to Family Connections. She knows the Scope of Work inside and out and is always ready to advocate for the right thing, and offers insight into creative problem solving. Vicki is always willing to help others in their roles with DCS."