February 5, 2019 - DCS technology program surprises foster youth with free laptops

DCS technology program surprises foster youth with free laptops
Darren DaRonco, Public Information Officer
602.255.2564
Phoenix (February 5, 2019)- 
Dozens of children in foster care were surprised with a gift that will help boost their education goals thanks to a generous donation from a community partner.
Thomas W. Lewis, CEO and Owner of the T.W. Lewis Foundation, recently donated 100 Chromebook laptops to foster youth in middle and high school.
"Every child deserves a quality education," said T.W. Lewis. "I was honored to have the chance to help make a difference in a child's life." 
Lewis helped distribute the laptops in-person to the foster youth at the event.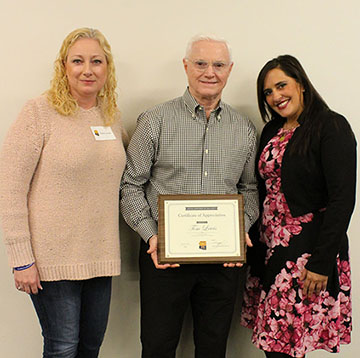 Pictured from left: DCS Deputy Director Shalom Jacobs,
donor Thomas W. Lewis and Director of Governor's Office of Youth, Faith anf Family Maria Fuentes
"Children in foster care should not be denied the same opportunities as other children," said Shalom Jacobs, DCS Deputy Director. "Which is why it's important to have caring community partners, like T.W. Lewis, support foster children so they can reach their educational goals."
Nationwide, statistics show that fewer than 70 percent of foster youth graduate from high school. And the foster youth who do graduate often struggle to finish college. 
Last year, the Department of Child Safety launched a program to reverse those trends by connecting children with technology.
Click to watch video.  
The program, Fostering Achievement through Computer Technology (FACT), is a partnership between DCS and community partners to provide laptops and internet safety training to Arizona's foster youth.
"Now more than ever, children rely on technology to be successful in school," said Maria Fuentes, Director of the Governor's Office of Youth, Faith and Family. "This program's continued success can level the playing field for children in foster care."
DCS hopes to continue the program by working with community organizations, businesses, and private donors.
If you would like to donate or assist with the FACT program, please contact our volunteer coordinator at [email protected]
Did you know?
National studies have shown: 
90 percent of teens in the United States have access to a computer.

70 percent of low-income teens have computer access.

20 percent of urban foster youth have computer access.

5 percent of rural foster youth have computer access.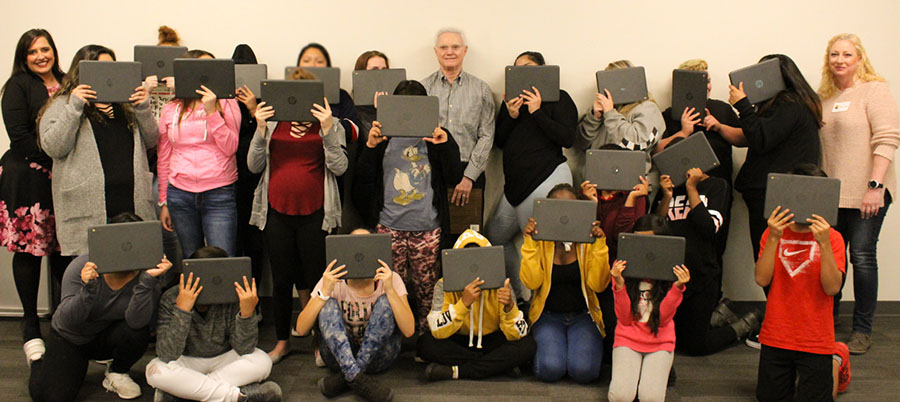 ###
ABOUT DIRECTOR GREGORY MCKAY
Gregory A. McKay is a twenty-year veteran of Law Enforcement with an emphasis on criminal investigations of violent crime. He was awarded Arizona's Investigator of the Year for solving many high-profile child murder cases. As a former Arizona foster parent, he understands the lasting emotional and physical effects of abuse to a child. In 2013, he was awarded Childhelp USA's Heart of an Angel Award, recognizing his distinguished career in child advocacy, investigative expertise, and removal of child predators. McKay was appointed Director of DCS by Governor Douglas A. Ducey on February 10, 2015.
Director McKay has led several breakthrough initiatives for the department. Under his leadership, DCS has successfully completed the backlog of uninvestigated cases that had plagued the department for years. The department also safely reduced the number of children in state foster care by 19% between March 2016 and January 2018, thus reversing a ten-year growth trend of 92%. By eliminating hotline hold times, reducing staff caseloads, decreasing congregate care and increasing family and community engagement in the service of the state's most vulnerable children, the state is poised to meet Director McKay's goal of making Arizona the safest place in the country for children to grow and thrive. In January 2018, Director McKay received the Excellence for Children Award for Exceptional Leadership from Casey Family Programs for his efforts in spearheading Arizona's dramatic child welfare turnaround.
ABOUT THE DEPARTMENT OF CHILD SAFETY (DCS)
The Department of Child Safety is dedicated to the vision that "Children thrive in family environments free from abuse and neglect." As highly motivated and caring public servants, the DCS team is committed to fulfilling this mission with excellence, providing safety and well-being for the most vulnerable population in Arizona - our children. If you suspect child abuse, call 888-SOS-CHILD.