Arizonans join together to brighten holidays for kids in foster care

Phoenix, AZ (December 24, 2019)-
Christmas for children in foster care will be a lot merrier this year thanks to the generosity of Arizona businesses and community partners.
Roughly 45 businesses and community partners from across the state donated over $100,000 in gifts for children in foster care as part of the Department of Child Safety's fourth annual Giving Tree Program.
Beginning in November, participants in the program pick a "leaf" from a "giving tree" which contains the wish list for a child in foster care. They then drop off their presents at a DCS office and staff delivers them to the children.
This year, 1,761 children received gifts through the program. "The holiday season can be hard on children in foster care," said DCS Director Mike Faust. "But seeing the community come together to let these kids know that they are not alone in their difficult time defines the essence of the holiday spirit. I would like to thank everyone who contributed to this special program."
The program allows the community to touch the lives of children in foster care during the holiday season.
"We had an excellent experience. The program brought a lot of awareness of the foster program to our community and staff," said Florence Town Clerk Patricia Buchanan.

"BMO loves participating in the Giving Tree," said Jennifer Lucovich, Senior Financial Advisor and Vice President of Investments at BMO Harris Financial Advisors. "Having the ability to give back to this amazing community and buy for an individual, specific child, allows us to really focus on creating a special holiday experience for each child. Every year we try to challenge ourselves with serving more children in Foster Care."

"The wishlists for each child were sent to IBM in a very easy to use format and within a couple weeks all of the children had been picked up," said Brian Shell, IBM Services Client Partner Executive. "The process was seamless and…it felt like Santa's workshop in the mail room for a few weeks and brought a lot of joy to take all the gifts over to DCS at the end of the campaign."
DCS would like to send a special thanks to everyone who participated in this year's Giving Tree:
AZ Department of Administration; Arizona's Children Association; ASU - College of Liberal Arts; ASU – Financial Aid and Scholarships; Barefoot Pools, Ahwatukee; BMO Bank; Catapult Learning; Corona Del Sol High Key Club; DCS Central Office; Durango Juvenile Court; Mesa Juvenile Court; Crossfit Full Strength, East Phoenix; Diona; Fingerpaint; First Convenience Bank, Tucson; First Star ASU; First Things First; Town of Florence; GOS Products for Business; Honor Health – Scottsdale; IBM; Inspira Arrowhead; Hope Community Church, Tucson; JABZ - 32nd street and Shea; Katerra; Lane Terralever; Movement Mortgage; Nova Home Loans, Yuma; Palo Verde Behavioral Health, Tucson; Paradise Valley Community College; Penguin Air and Plumbing; Physician Services, INC; Pima Federal Savings, Tucson; Prisma Graphics; Salucro; Southern Glazers Wine and Spirits; Step-Up; Studio Academy of Beauty, Tolleson; Tivity; Verde Valley Christian Church, Cottonwood; and the University of Arizona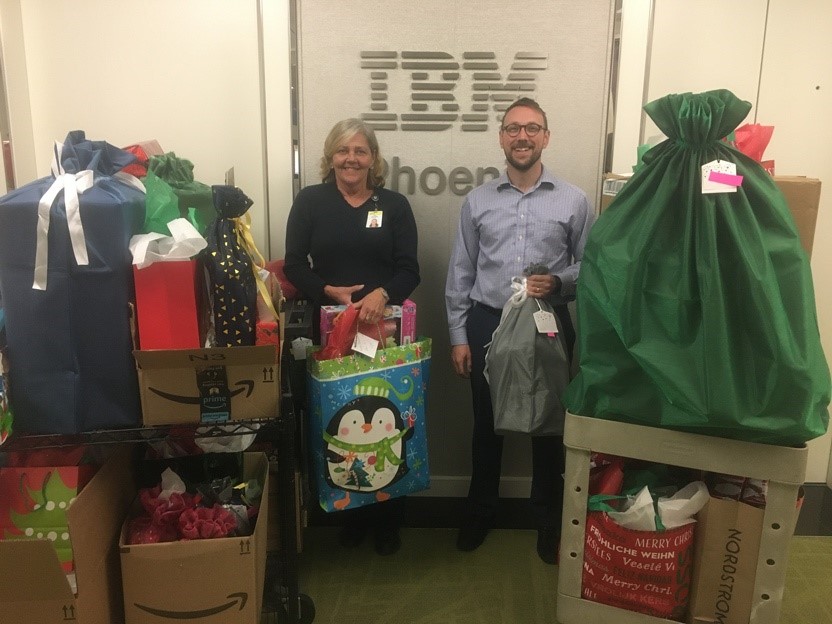 IBM employees pose with gifts they collected for this year's Giving Tree Program.
#