DCS celebrates new program designed to curb youth homelessness

Phoenix, AZ (October 28, 2020)
Homelessness continues to afflict former foster youth in Arizona.
"I was living from friend's house to friend's house," said former Arizona foster youth Precious Roman. "I just wanted to be on my own and be stable and not have to worry about getting kicked out and not having anywhere else to go."
Studies have shown that 25 percent of former foster youth across the country have experienced at least one period of homelessness after exiting foster care.
But there is hope.
The Arizona Department of Child Safety in partnership with the U.S. Department of Housing and Urban Development (HUD) and regional public housing authorities are working to reverse those trends with a new housing voucher program designed to curb homelessness and housing insecurity among former foster youth.
The program, called Foster Youth to Independence (FYI), was created by HUD to assist communities nationwide to close the gaps in housing assistance for young adults with a history in foster care and are either homeless or at risk of homelessness.
"Stable housing provides the foundation to success in life. Without stable housing, youth struggle to meet their basic needs, creating chronic homelessness, mental and physical health concerns, and poor outcomes for the entire community," said DCS Director Mike Faust. "The FYI program allows former foster youth to obtain stable housing at a critical point in their lives."
This week, HUD officials visited with DCS and City of Glendale officials to celebrate Precious on becoming the first former foster youth in Arizona to receive the housing voucher so she could obtain her own apartment in Glendale, AZ.
Precious said with a home of her own, she can now concentrate on her future.
"It provides stability," she said. "It lets me focus on working and trying to get a car and being more independent. I'm also thinking about attending school to be a paramedic."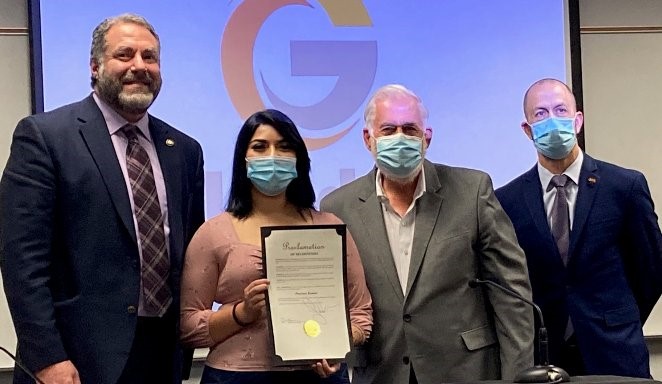 Pictured from left: Christopher Patterson, Regional Administrator of the U.S. Department of Housing and Urban Development; Precious Roman; Glendale Mayor Jerry Weiers; and DCS Director Mike Faust.
Mayor Jerry Weiers presented Precious Roman with a proclamation Wednesday morning in Glendale, AZ, to honor her on becoming the first youth in Arizona to receive the Foster Youth to Independence housing voucher.
How the program works
90 days before a youth ages out of foster care, and there is no other viable plan to keep youth in stable housing, referrals can be made for FYI vouchers.
The voucher can be used for up to 36 months. In addition, DCS provides or identifies up to 36 months of voluntary supportive services like basic life skills support; education and employment support; and housing counseling.
After the 36-month period ends and the youth is still at risk of homelessness, local public housing authorities can continue to place youth on the priority list up to the age of 25.
Did you know?
The U.S. Department of Health and Human Services estimates that more than 20,000 young people age out of foster care each year.
Estimates show that approximately 25 percent of these young people experience homelessness within four years of leaving foster care and an even higher percentage have unstable housing.
#