DCS employees help make holidays special for kids in foster care
DCS employees help make holidays special for kids in foster care
PHOENIX (December 21, 2017) 
The holidays can be a difficult time for children in foster care as they struggle with the emotions that come with being away from their families.
But each year DCS employees pitch-in to make the holidays special for them.
"It touches my heart to see DCS staff and the community partner together year after year to bring joy to children during this special time of year," said DCS Director Greg McKay.
The Department held several events over the past few weeks to spread holiday cheer for children in foster care.
GIVING TREE
Throughout November and early December, DCS offices and community partners participated in the Department's third annual Giving Tree program.
The program allows DCS staff and community members to sponsor youth in DCS care.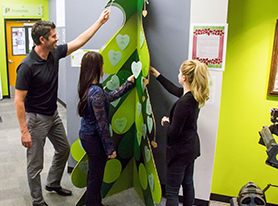 Participants in the program pick a "leaf" from a "giving tree" which contains the wish list for a child in foster care. They then drop off their presents at a DCS office and staff delivers them to the children.
This year over 960 children received a gift through the program, more than double from the previous year.
Last year, 416 children received gifts.
"It has been amazing to see this program grow and to see such thoughtfulness and caring put into the gifts from both DCS and our community supporters," said DCS Independent Living Development Coordinator Shannon Clayton, who coordinated the program. "Every year, our staff and community amaze me with their generosity for these youth."
The program allows staff and the community to touch the lives of children in foster care, not only through the material gift, but through personal messages that can accompany it.
"It was a great present, but the best gift of all was the words you wrote," said one youth who received a personal note along with her gift. "Your words stuck in my mind, and I was inspired. I keep your card in the back of the sketchbook, and I must have read it over a dozen times, letting the words sink in. Your card was beautiful, I hope one day I can make a child feel as inspired with art as you have inspired me."
DCS expanded the program this year to include young adults over 18 who are enrolled in the Independent Living Program and kinship placements.
Special thanks to Maricopa County Courts, Pima Federal Credit Union, iHeart Radio, Prisma Graphic, Lane Terralever, BMO Harris Financial Advisors, Jabs Boxing Gym for Women, Penguin Air & Plumbing, Century Link, Diona, Arizona's Children Association and DCS employees for their contributions to the Giving Tree project. 
HOLIDAY FAIR
Southwest Region employees kicked off the holiday season by hosting a Kinship Holiday Fair for children and their caregivers on December 19.
Over 850 children and adults attended the event where children could play games, receive presents, and reveal their wish lists to Santa Claus.
For one boy and his sibling, the event provided a first in their lives.
"A 14-year-old boy visited with Santa for the first time in his life, along with his sibling," said DCS Southwest Region Executive Assistant Toni Simmons, who helped orchestrate the event. "He cried with joy for the opportunity he never thought he or his sibling would ever have."
Attendees also enjoyed pizza provided by Papa John's, and coffee and hot chocolate donated by Starbucks.
Phoenix Union High School District donated the holiday decorations for the event.
Special thanks to Arizona Helping Hands for their tireless efforts in soliciting and accepting donations to help serve the needs of children in care.
HOLIDAY GIFT SHOP
DCS's Central Region opened its annual holiday gift shop in December.
DCS caseworkers were able to pick up thousands of donated presents for children on their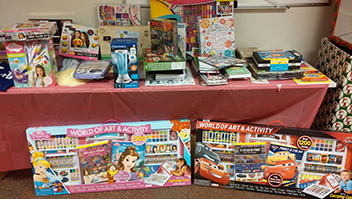 caseloads and deliver them during the holidays.
Special thanks to Compas Christian Church, AZ Bike Week Charities, Perfect Poise, Prime Lending and Branches Home School Group for your contributions to this wonderful community service project.
###
ABOUT DIRECTOR GREGORY MCKAY

Gregory A. McKay is a twenty year veteran of Law Enforcement with an emphasis on criminal investigations of violent crime. He was awarded Arizona's Investigator of the Year for solving many high-profile child murder cases. As a former Arizona foster parent, he understands the lasting emotional and physical effects of abuse to a child. In 2013, he was awarded Childhelp USA's Heart of an Angel Award, recognizing his distinguished career in child advocacy, investigative expertise, and removal of child predators. McKay was appointed Director of DCS by Governor Douglas A. Ducey on February 10, 2015.
Director McKay has led several breakthrough initiatives for the department. Under his leadership, the DCS has successfully completed the backlog of uninvestigated cases that had plagued the department for years. The department also safely reduced the number of children in state foster care by 10% in 2016, thus reversing a ten year growth trend of 92%. By eliminating hotline hold times, reducing staff caseloads, decreasing congregate care and increasing family and community engagement in the service of the state's most vulnerable children, the state is poised to meet Director McKay's goal of making Arizona the safest place in the country for children to grow and thrive.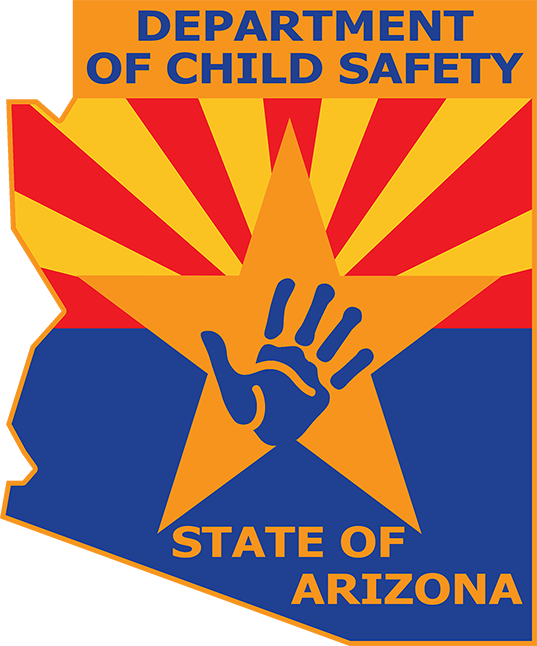 ABOUT THE DEPARTMENT OF CHILD SAFETY (DCS)
The Department of Child Safety is dedicated to the vision that "Children thrive in family environments free from abuse and neglect." As highly motivated and caring public servants, the DCS team is committed to fulfilling this mission with excellence, providing safety and well-being for the most vulnerable population in Arizona - our children. If you suspect child abuse, call 888-SOS-CHILD.