DCS Pilot Program Surprises 100 Eighth Graders with Laptops from #LoveUp, Safety Training
DCS Pilot Program Surprises 100 Eighth Graders with Laptops from #LoveUp, Safety Training
PHOENIX (June 8, 2018) – 
Children in foster care often struggle in school because they lack the tools necessary to succeed.
Nationally, fewer than 70 percent of foster youth graduate from high school. And those that do graduate often struggle to complete college. 
But the Department of Child Safety is trying to change that through a new pilot program designed to get technology into the hands of foster children. When DCS Deputy Director Shalom Jacobs explained her vision of how the program might work to the Johnjay and Rich #LoveUp Foundation, they graciously rose with financial support.
The program, called Fostering Achievement through Computer Technology (FACT), is a partnership between DCS and community partners such as #LoveUP to provide technology and training to Arizona's foster youth.
"Now more than ever, technology is vital to educational success; it's the game-changer for students," said DCS Director Greg McKay. "We hope this program will help shrink the achievement gap for children in foster care."
Under the pilot program, 100 foster children who are graduating from 8th grade this year will receive a Chromebook laptop donated by the Johnjay and Rich #LoveUp Foundation. 
"The #LoveUp Foundation is proud to continue our partnership with Arizona Department of Child Safety," said foundation founder Johnjay Van Es. "Foster children deserve to have the same advantages as other kids. If we can help make this happen, we are serving our mission to the best of our abilities."
#LoveUp co-founder Rich Berra said, "This program is groundbreaking. Putting technology and training into the hands of these kids will pave the way for their education and their futures."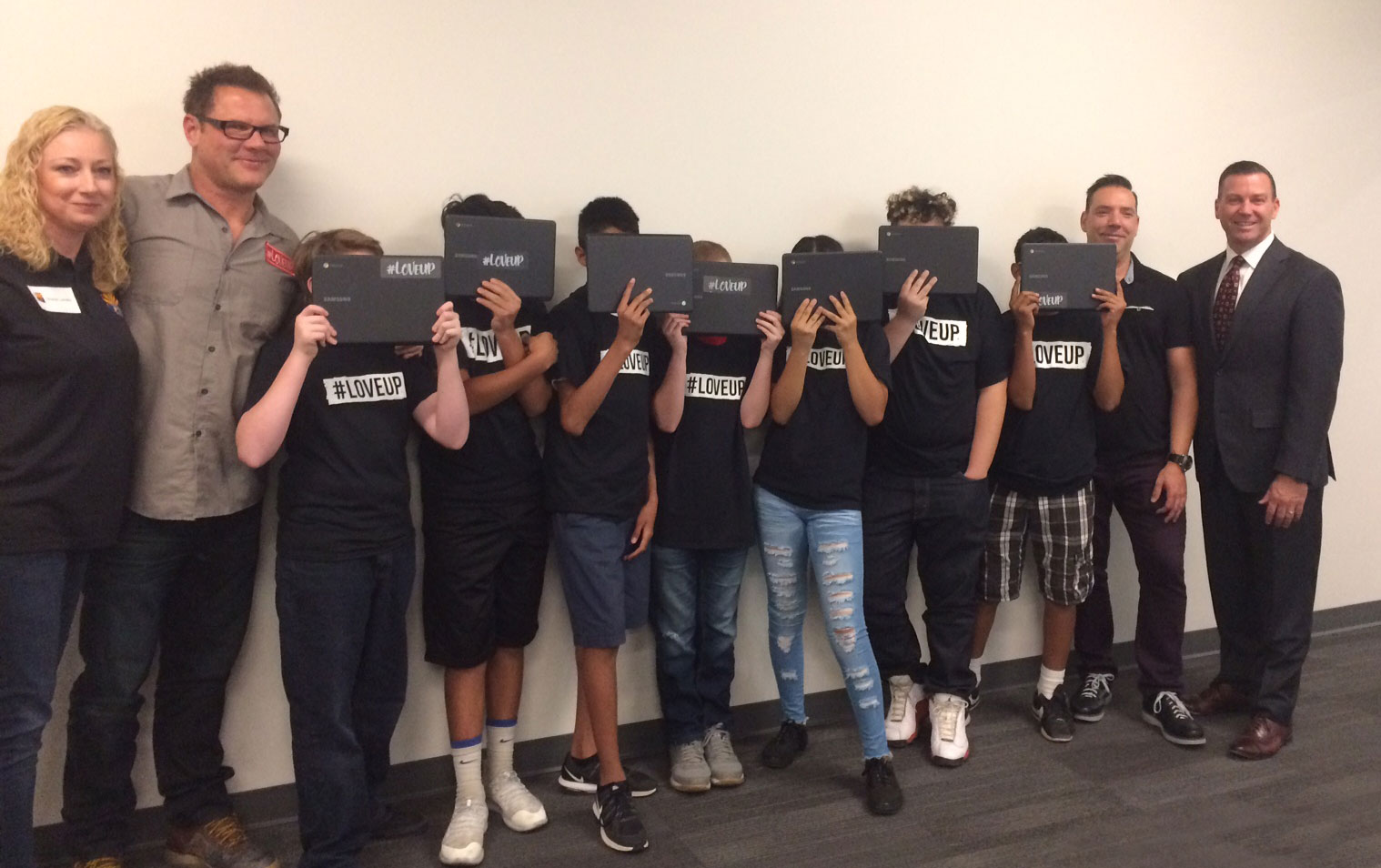 Pictured from left: DCS Deputy Director Shalom Jacobs; #LoveUp Foundation founder, Johnjay Van Es; foster youth posing with their new laptops; #LoveUp Foundation co-founder, Rich Berra; and DCS Director Greg McKay.
The laptops will be distributed this summer to children who have been nominated by their DCS case managers. The donated laptops are valued at $25,000.
The children who receive the laptops will be trained on how to use them. Also, the children will receive Internet Safety training provided by the Phoenix Police Department Internet Crimes Against Children detectives. Training facility for the laptop distribution event is being provided by Barnett Management. 
DCS hopes to continue the program by working with community organizations,  businesses, and private donors. Specifically, they hope local organizations will provide support for up to 1,000 foster youth per year.
If you would like to donate or assist with the FACT program, please contact our volunteer coordinator at [email protected].
Did you know?
National studies have shown:
90 percent of teens in the United States have access to a computer.

70 percent of low-income teens have computer access.

20 percent of urban foster youth have computer access.

5 percent of rural foster youth have computer access. 
###