DCS recognized as technology innovator in child welfare

DCS honored along with tech giants in receiving national award
Phoenix (August 23, 2018)-
The Arizona Department of Child Safety (DCS) was recently recognized as a national leader in child welfare technology innovation.
DCS received IDG's prestigious 2018 CIO 100 Award along with international companies such as IBM, Micron Technologies, Verizon and dozens of other business and technology leaders.
"Three years ago, we developed a vision to transform DCS into a technology leader," said DCS Director Greg McKay. "This award is a testament to our employees and their determination to make that vision a reality."
DCS received the award after being one of the first child welfare agencies in the nation to overhaul its child welfare operating system, and to implement a secure, cloud-based platform so 1,400 caseworkers can utilize tablets to serve families more efficiently.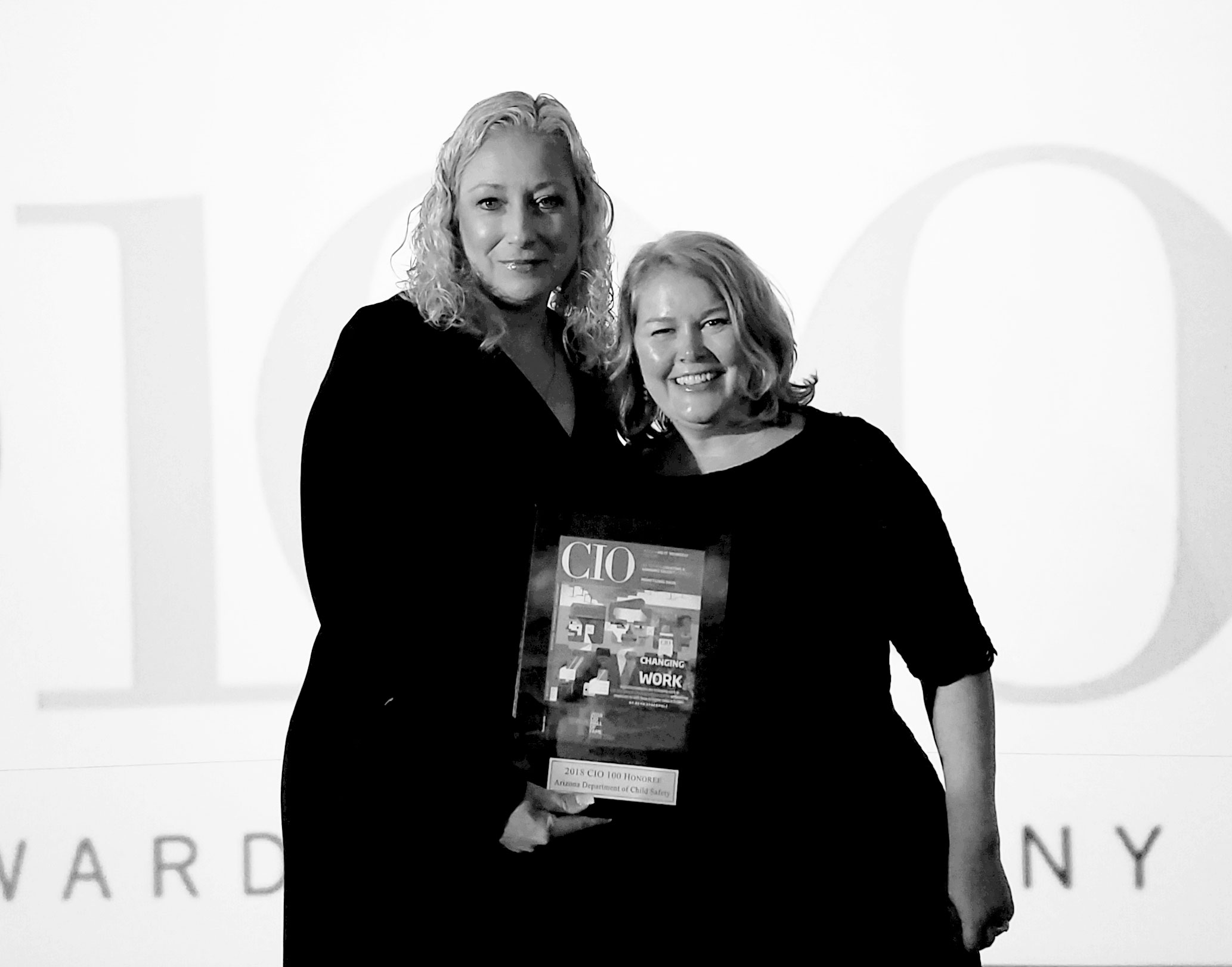 Pictured :  DCS Deputy Director Shalom Jacobs and DCS CIO Linda Jewell
receive the CIO 100 Award
Benefits of this transformation include:
●        Improved caseworker efficiency by 20 percent
●        Increased caseworker time spent with children and families
●        Enhanced service quality and case outcomes
●        Improved the quality of all data collected
"We wanted to remove outdated technology as a barrier for child welfare," said DCS Chief Information Officer Linda Jewell, who received the CIO 100 Award during a ceremony on August 15 in Rancho Palos Verdes, California. "We developed these innovative solutions to transform how caseworkers interact with families because we wanted our workers devoting more time to addressing the needs families, instead of filling out paperwork." 
The CIO 100 Award is just the most recent tech award for DCS.
In May 2018, Linda Jewell was named a StateScoop 50 State Leadership of the Year Award Finalist.
In August 2018, the National Association of State Chief Information Officers (NASCIO) announced DCS was a finalist for its Digital Government: Government to Citizen Category Award. NASCIO will announce the winners and honor the finalists at a ceremony in October.
DCS also won a fourth national technology award which will be announced in September 2018.
The CIO Award Announcement can be read here: CIO Announcement