DCS recognized as technology innovator in child welfare
DCS recognized as technology innovator in child welfare
Phoenix (May 1, 2018)-
IDG's CIO today announced The Arizona Department of Child Safety (DCS) as a recipient of the 2018 CIO 100 for implementing mobile technology innovations into its case management system using Diona solutions.
The 31st annual award program recognizes organizations around the world that exemplify the highest level of operational and strategic excellence in information technology (IT). DCS had been operating on a legacy Statewide Automated Child Welfare Information System (SACWIS) which limited caseworker efficiency and productivity in engaging with children and families.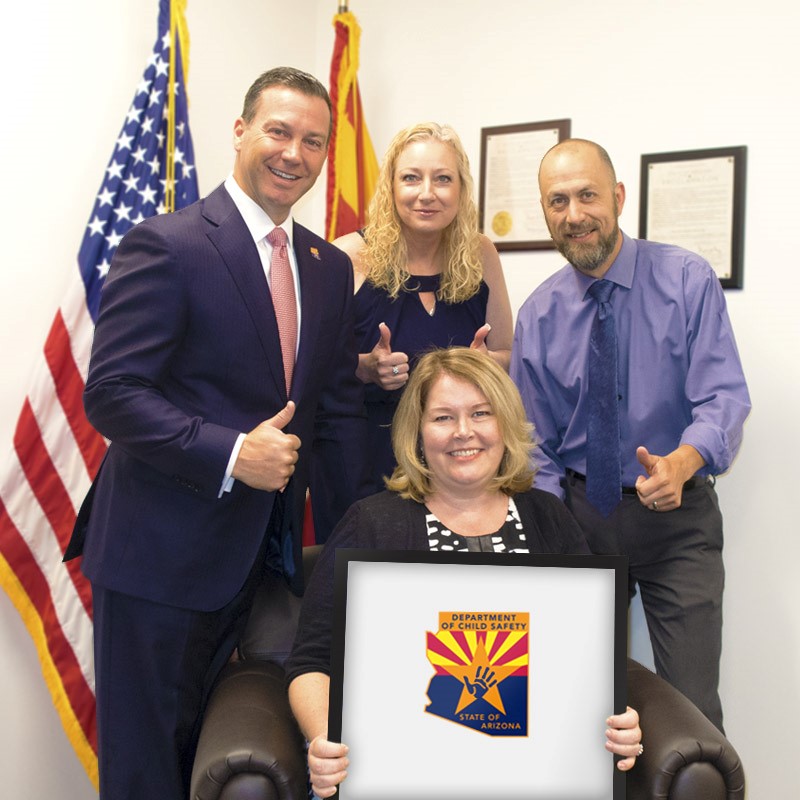 To extend the capabilities of the system, DCS implemented Diona Mobile Visits and Diona Mobile Investigations. Utilizing mobile devices, 1,400 DCS caseworkers can now receive and deliver real-time data—anywhere, anytime, whether online or offline—through a government-cloud-based, secure, scalable, and reliable platform without the need for paper files.
"We have been committed to making DCS a leader in technology," said DCS Director Greg McKay. "This award highlights how Arizona is at the forefront of applying technology to improve the lives of our most vulnerable children and their families."
 "Mobile First" Innovations to Better Serve Arizona's Children
DCS took an innovative approach to digital transformation by deploying a modular, "mobile first" strategy to implementing the new Comprehensive Child Welfare Information System (CCWIS) requirements. By enabling DCS caseworkers to adopt transformative mobile technology into their practice today, workers now can engage more productively with children and families in the field, paper-based processes are obsolete, and client data is stored securely and privately.
"DCS is now equipped to deliver more effectively on their mission to ensure safety, strengthen families, and achieve permanency," said Graham Stubbs, CEO, Diona. "Caseworkers can interact with children and families at deeper and more informed levels, spend less time on paperwork, and respond immediately to issues with accurate, up-to-date information."
Thanks to its innovative strategy, DCS is projected to save $18.7 million annually in departmental costs and has:
●        Boosted field access to its information system to 100 percent
●        Improved caseworker efficiency by 20 percent
●        Increased caseworker time spent with children and families
●        Enhanced service quality and case outcomes
●        Improved the quality of all data collected
"We did not want technology to become a barrier for child welfare," said DCS Chief Information Officer Linda Jewell. "We wanted a technology that could transform how caseworkers operate in the field. We wanted them to devote more time addressing the needs of children and families, instead of filling out paperwork. That's why we developed these innovative solutions for our frontline workers. And this award is a testament to all of our employees' commitment to this transformation." 
The CIO 100: Recognizing strategic excellence in IT
"Every year, we are honored to showcase the technology innovation and business value delivered by our CIO 100 award winners. Each of these organizations has achieved notable success in accelerating their workforce to the front lines of the digital revolution," said Maryfran Johnson, Executive Director of CIO Programs for CIO Events and the CIO Executive Council. "This year's winners are inspiring examples of how IT leadership, business partnerships, and people can reshape the future."
Recipients of this year's CIO 100 Award were determined by a team of external judges (many of them former CIOs) looking for leading-edge IT practices and measurable results, and a review of the judges' evaluations by CIO's editors. Executives from the winning companies and organizations will be recognized at The CIO 100 Symposium & Awards Ceremony on August 15th at the Terranea Resort in Rancho Palos Verdes.  
ABOUT THE ARIZONA DEPARTMENT OF CHILD SAFETY (DCS)
The Arizona Department of Child Safety is dedicated to the vision that "Children thrive in family environments free from abuse and neglect." As highly motivated and caring public servants, the DCS team is committed to fulfilling this mission with excellence, providing safety and well-being for the most vulnerable population in Arizona - our children. DCS caseworkers have the strength, sensitivity, passion, and empathy to restore hope to children and families. Learn more about DCS' Compassioneers. If you suspect child abuse, call 888-SOS-CHILD.
ABOUT DIONA
Diona is at home in two worlds: casework and enterprise software. Born out of unmatched experience and passion for bringing mobile technology solutions to government Health and Human Services agencies across the globe, Diona is building a future where people can get the help they need—when and where they need it. Diona's enterprise mobility software, Diona Mobility, turns mobile devices—such as smartphones and tablets—into tools to achieve better business and social outcomes. Diona Mobility improves how employees work and collaborate by extending organizational systems and delivering real-time data directly into the field through a cloud-based platform that is secure, robust, scalable, and reliable. With deep domain expertise and a user-centered design philosophy, Diona delivers mobile solutions that solve real-world problems. Learn more at www.diona.com or [email protected] and follow us on Twitter at @DionaMobility.
ABOUT CIO
CIO from IDG is the premier content and community resource for information technology executives and leaders thriving and prospering in this fast-paced era of IT transformation in the enterprise.  The award-winning CIO portfolio--CIO.com, CIO executive programs, CIO Strategic Marketing Services, CIO Forum on LinkedIn, CIO Executive Council and CIO primary research—provides business technology leaders with analysis and insight on information technology trends and a keen understanding of IT's role in achieving business goals. Additionally, CIO provides opportunities for IT solution providers to reach this executive IT audience.  The CIO Executive Council is a professional organization of CIOs created to serve as an unbiased and trusted peer advisory group. CIO is published by IDG Enterprise, a subsidiary of IDG. Company information is available at www.idgenterprise.com.