DCS's technology overhaul receives national recognition

DCS's technology overhaul receives
national recognition
Phoenix (September 19, 2018)-
The Arizona Department of Child Safety (DCS) recently received another prestigious national award for its innovative technology improvements that helped caseworkers better serve Arizona's children and families.
On Monday, September 17, 2018, ISM presented DCS Deputy Director Shalom Jacobs and DCS's Chief Information Officer Linda Jewell with its Best Use of Technology for Operations Award.
"At the beginning of 2015, we were facing many challenges. We had over 33,000 open reports and we had seen our foster population grow to 19,000 kids in care," Jacobs said. "We needed to find smart solutions to address these issues and allow our staff to work more efficiently."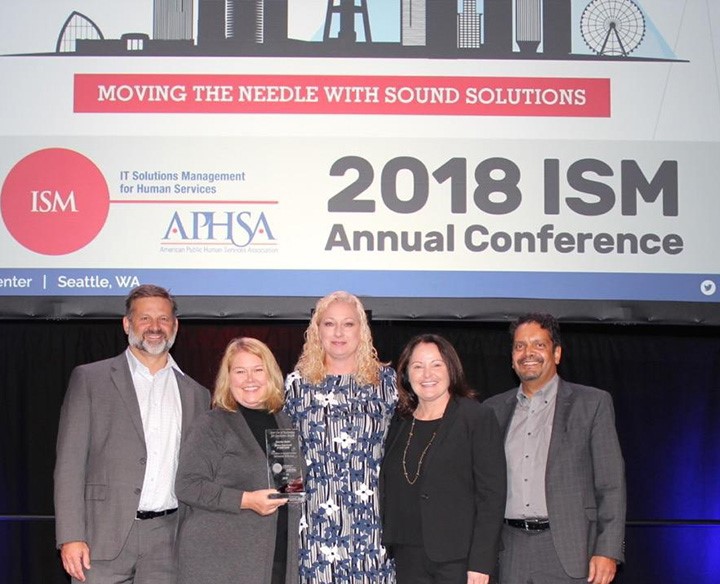 Pictured from left: John Polakowski, EVP, Services; Linda Jewell, DCS CIO; Shalom Jacobs, DCS Deputy Director; Patricia Donaldson, EVP, Global Sales; Neil Ramgoolam, Director of Sales, North America
Three years ago, DCS started to replace its outdated information technology system, which limited caseworker efficiency and productivity in engaging with children and families.
After partnering with Diona, a company dedicated to providing mobility software to government health and human service agencies, DCS became one of the first child welfare agencies in the nation to overhaul its child welfare operating system, and to implement a secure, cloud-based platform so 1,400 caseworkers could utilize tablets to serve families more efficiently.
"Linda Jewell and Shalom Jacobs are part of a visionary leadership team at DCS who saw the potential to bring game-changing technology to child welfare," said Graham Stubbs, CEO, Diona. "We are thrilled they've been recognized with the ISM Award—and are honored to have supported them in transforming how they serve children and families."
Thanks to this innovative strategy, DCS has:
●        Boosted field access to its information system to 100 percent
●        Improved caseworker efficiency by 20 percent
●        Increased caseworker time spent with children and families
●        Enhanced service quality and case outcomes
●        Improved the quality of all data collected
●        Deployed the solution in only 7 months
"This has allowed us to grow as an agency and leverage new technology to improve our practice and policies," Jewell said.
Jacobs and Jewell received the award during ISM's 51st annual conference at the Washington State Convention Center in Seattle, WA.
The award, presented by the American Public Human Services Association (APHSA), a nonprofit group representing state and local human service agencies, and ISM, recognizes excellence in human services IT and the innovative use of technology to improve efficiencies in human service organizations.
###