Foster families join together to combat child hunger
Foster families join together to combat child hunger
Phoenix (January 23, 2018)-
Foster families came together this past weekend in Mesa to help fight global childhood hunger.
Over 450 foster parents and children teamed up with Department of Child Safety (DCS) employees to fill 65,232 meal packs at a packing event hosted by Feed My Starving Children (FMSC).
"I am so grateful for this opportunity to bring foster children together for an important cause," said one foster parent who attended the Sunday event. "It is  important that these kids realize they are not alone and that other kids are in the same situation as they are."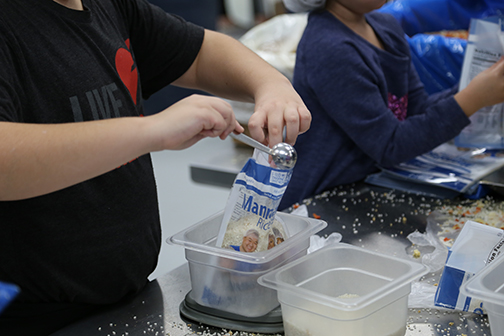 The 65,232 meals packed at the event will feed 178 children for one year.
As part of the event, foster families received a free lunch courtesy of Honey Bear's BBQ, played carnival games and reflected on how hunger and malnutrition affect children around the world.
"We feel honored to have had the families come and pack life-saving meals with us yesterday.  The children did a fabulous job putting the ingredients together to pack the meals," said Jessica Knopf, development advisor with Feed My Starving Children. "A special thanks to the staff with DCS for organizing this event. Thank you for taking your time on a Sunday to come and volunteer and help feed starving children around the world."
You can help too
DCS always welcomes support for children in foster care from the business or non-profit community.
If you own a business or are part of an organization looking for ways to help children in foster care, consider holding an event for foster families to enjoy or reserve a few places at your event for foster families to attend.
For more information on how you can include foster families in your next event, contact the DCS Community Liaison at [email protected].