Governor Doug Ducey's Happy Baby Program expands to DCS headquarters
Governor Doug Ducey's Happy Baby Program expands to DCS headquarters
Phoenix (January 31, 2018)-
The Arizona Department of Child Safety welcomed its newest, and youngest, member to the workplace this month.
Three-month-old Adam joined his mother, Jennifer, at DCS's Central Office as the first child to take advantage of the Department's new infant-at-work policy.
"Having him with me at work the past three weeks has really helped a lot with the bonding process," said Jennifer, who is a Parent Aide/Family Reunification/Supervised Visits Referral Coordinator.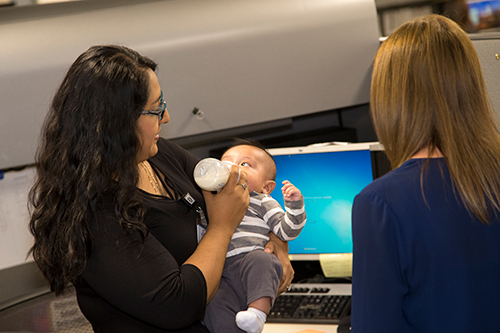 Under the pilot program, employees can bring their infants to work with them until their child reaches six months old or begins to crawl.
It's designed to minimize the stress in new parents' lives by not forcing them to make a decision between leaving their infant in someone else's care and returning to work.
"I feel much more at ease bringing him to work with me every day," Jennifer said.
And Adam's presence has shown the benefits of the program can extend beyond the child/parent relationship.
"Everybody has been really supportive," Jennifer said. "My coworkers are excited and more joyful. They like to come and visit Adam on their breaks."
The Department decided to adopt Governor Doug Ducey's Happy Babies Program after DCS Director Greg McKay met with three expecting mothers who worked at DCS.
"We practice what we preach here at DCS," McKay said.  "Healthy bonds from infancy is what we want for everyone; parents we serve and parents we employ."
So far, the program is only available to employees who work at the Central Office.  But that could change soon.
"We are committed to this program being successful," said Mike Faust, Deputy Director of Business Operations. "And we are looking to expand it to other offices."
As part of the policy, DCS employees may utilize a baby box for their infant to sleep in while they accompany their parent to work.
Baby boxes play an integral role in DCS's Prevention programs as they reinforce the ABCs of safe sleep for babies: Alone. Back. Crib.
You can find more information on the policy here.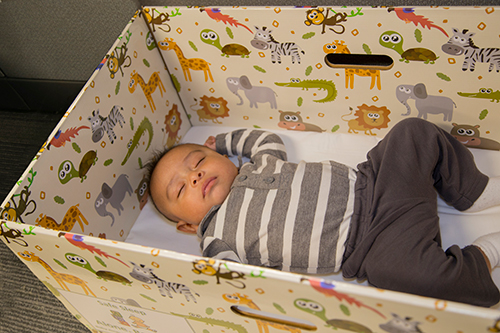 ###