Help brighten a foster child's holiday by participating in DCS's Giving Tree Program

PHOENIX, AZ (September 15, 2022)
It's the holiday season.
Imagine you are a foster child, waking up in a strange bed, in a house filled with people you don't know.
You have no idea what's going to happen next, or when you will see your parents again.
You wonder, does this family celebrate my holiday? Will Santa be able to find me? Will I get presents this year?
Or imagine that you are a teenager without parents.
You have aged out of foster care and do not have a family of your own.
You are working and going to college, but money is tight, and you wonder how you are going to afford some of the necessities for your new apartment.
It would be nice to know that you are not forgotten.
These scenarios represent the circumstances for thousands of children in foster care right here in our state.
How You Can Make the Holidays Brighter
Foster kids need to know that someone cares.
Every year, the Arizona Department of Child Safety (DCS) partners with Arizona businesses, churches, and organizations through its Giving Tree Program.
Giving Tree provides an opportunity to give back by providing gifts for children in foster care.
Participating organizations receive a set of Giving Tree hearts that can be hung on a holiday tree in a business office or lobby.
Each heart includes a child's name, age, gender, sizes, and wish list.
Participants can pick a heart from the tree and shop for that child.
DCS will pick up the gifts and deliver them to the children for the holidays.
Last year in Arizona, over 75 community partners donated roughly $386,000 in gifts for nearly 4,000 children in foster care through the Giving Tree Program.
To find out more about Giving Tree, or explore other ways to get involved, please email us at [email protected].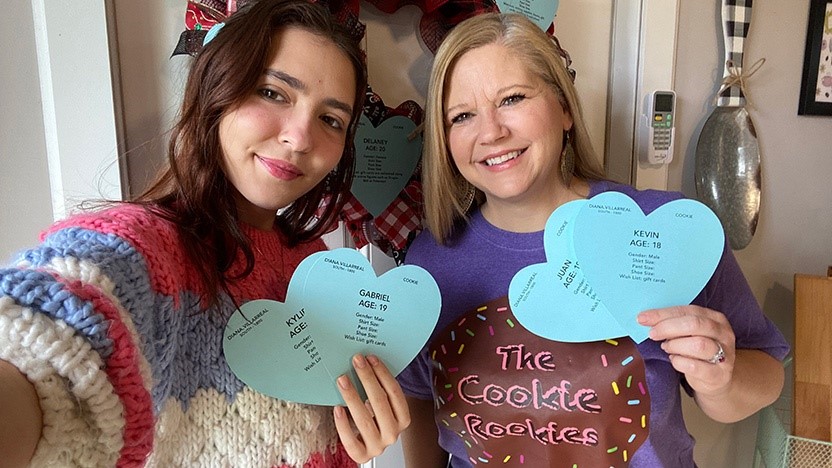 Employees from Cookie Rookies in Yuma pose with the children's wishlists they purchased gifts for during last year's Giving Tree.