Neighbors helping neighbors: Program that connects local chuches with families in need expands to East Valley
Neighbors helping neighbors: Program that connects local chuches with families in need expands to East Valley
Gilbert, AZ (October 19, 2017) – When a family hits hard financial times, even the smallest needs can add up to the point where the state becomes involved.
But the Arizona Department of Child Safety (DCS) wants to take every step to keep children in safe, loving homes.
That's why DCS and the Governor's Office of Youth, Faith and Family (GOYFF) continue to expand an innovative program designed to connect families in need with local churches who want to lend a hand.
"Strengthening families requires a community coming together," said DCS Director Greg McKay. "CarePortal provides a pathway to link local churches and families in need, so neighbors can help neighbors. We're excited that this program will now be available throughout Maricopa County."
How it works
The program, called CarePortal, is a network that allows DCS workers to enter a family's request online, such as home repairs or a bed for a child to sleep on.
Once the request is submitted, CarePortal alerts participating churches within a families' zip code.
After a church receives the alert, it can identify parishioners willing to assist families in their community.
Helping Arizona families
Since their Pima County launch in December 2015, CarePortal has recruited 72 churches that have combined to help meet the needs of 2,142 Arizona children.
CarePortal expanded to the West Valley in Maricopa County in February 2017.
Now, CarePortal will offer its services in the East Valley.
"Arizona's children deserve intact, loving families," said Arizona Governor Doug Ducey. "It is our hope that every church will do a little to meet the needs of our most vulnerable children and families."
The Governor's Office of Youth, Faith and Family formed this partnership with DCS and CarePortal to help the program expand.
"Community-based programs, such as the CarePortal, help strengthen the ability of communities to support families in need," said Maria Fuentes, newly appointed Director of the Governor's Office of Youth, Faith and Family.
On October 18, 2017, DCS Director Greg McKay and Deputy Director Shalom Jacobs joined CarePortal officials and representatives from local churches in a special event to announce the program's expansion to the East Valley.
With the East Valley launch complete, CarePortal now covers all of Maricopa County.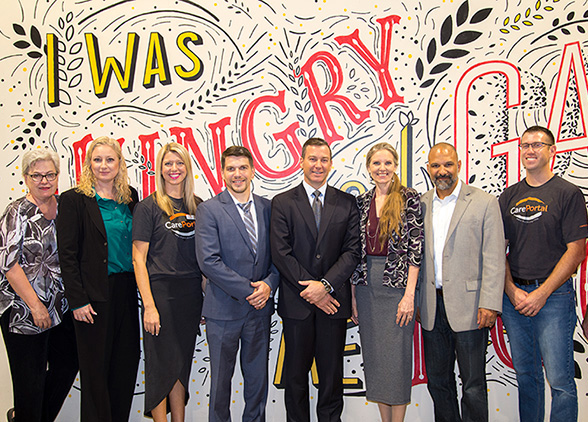 Care Portal East Valley Launch Event
Pictured from Left: CarePortal's Pima County Manager Sue Baird, DCS Deputy Director Shalom Jacobs, CarePortal's Maricopa County Manager Jenica McMaster, GOYFF Communications Director Sam Burba, DCS Director Gregory McKay, GOYFF Director of Faith and Community Initiatives Terilynn Miller, CarePortal Executive Director Adrien Lewis, and CarePortal's East Valley ManagerJoe Mason.
###
ABOUT DIRECTOR GREGORY MCKAY

Gregory A. McKay is a twenty year veteran of Law Enforcement with an emphasis on criminal investigations of violent crime. He was awarded Arizona's Investigator of the Year for solving many high-profile child murder cases. As a former Arizona foster parent, he understands the lasting emotional and physical effects of abuse to a child. In 2013, he was awarded Childhelp USA's Heart of an Angel Award, recognizing his distinguished career in child advocacy, investigative expertise, and removal of child predators. McKay was appointed Director of DCS by Governor Douglas A. Ducey on February 10, 2015.
Director McKay has led several breakthrough initiatives for the department. Under his leadership, the DCS has successfully completed the backlog of uninvestigated cases that had plagued the department for years. The department also safely reduced the number of children in state foster care by 10% in 2016, thus reversing a ten year growth trend of 92%. By eliminating hotline hold times, reducing staff caseloads, decreasing congregate care and increasing family and community engagement in the service of the state's most vulnerable children, the state is poised to meet Director McKay's goal of making Arizona the safest place in the country for children to grow and thrive.
ABOUT THE DEPARTMENT OF CHILD SAFETY (DCS)
The Department of Child Safety is dedicated to the vision that "Children thrive in family environments free from abuse and neglect." As highly motivated and caring public servants, the DCS team is committed to fulfilling this mission with excellence, providing safety and well-being for the most vulnerable population in Arizona - our children. If you suspect child abuse, call 888-SOS-CHILD.