Call Me Armando
Monique Hernandez and her husband Gerardo had never considered adoption – it wasn't something they had on their minds or felt called to. Adoption came to them in an unexpected way. In 2013, Monique and her husband made the move from Colorado to Arizona. That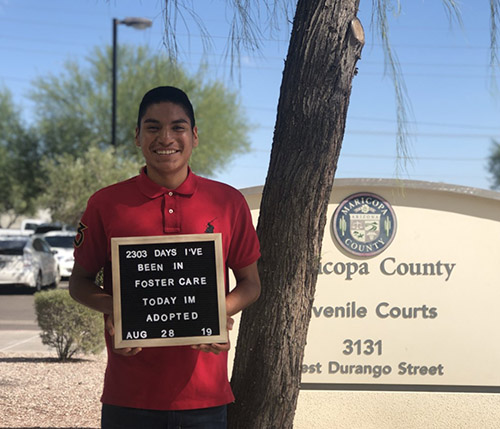 same year, Esias Seumptewa was placed into the foster care system in Arizona and began his journey to find his forever home.
Monique and Esias crossed paths years later, when she became his mentor after seeing an ad on FOX10 calling for mentors to help kids who were getting ready to age out of the foster care system. Monique began mentoring Esias up to 8 hours each week and each time she had to take him back, it became harder and harder for her not to ask him to stay.
Finally, Monique and Gerardo decided it was time to offer Esias a home after some encouragement from her family. According to Monique, "This was not in the plan. It was not how it was supposed to be. Our family helped encourage us to make it happen. How could we leave him now that we've invited him into our lives? How could we turn our back on him?" Monique knew that they were right and that Esias was meant to be with them.
Monique and her husband decided permenent placement was the best thing for Esias and their family and began the adoption process. Since Monique had a previous relationship with Esias, this adoption was considered a Kinship Placement; however, the family still had to go through the struggle and excitement that come along with the adoption process.
Throughout the process, there were many trials that Esias and his new family had to face. Having been in care for six years of his life, he was often worried that he wouldn't get adopted after all and might end up back with strangers. "He'd had so much rejection that he was worried about these complete strangers taking him in and never giving him back," said Monique. Esias was searching for stability. Finally, after a year of living in the Hernandez home, his adoption was made official.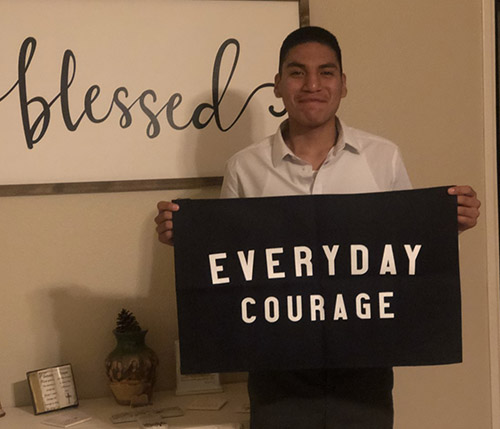 The process has been one that Monique and her family have taken in stride. She says, "I didn't have any expectations. I just went with it and took it one day at a time. We cry when we need to cry, laugh when we need to laugh, and pray when we need to pray. We stayed very flexible. We don't make decisions or react on emotion. We act on fact. We love the way God has taught us, patient and kind." This attitude is the one that helped bring this special young man into a family that loves him.
For Monique, there are so many things about Esias that have changed since he became a part of her family. One of those changes, his name. Esias felt so connected to his new family that he chose a name that meant something to them all. Upon learning he was going to be adopted, Esias told his class at school, "Start calling me Armando because I'm getting adopted on Thursday." Armando chose his name because it was Monique's father's name and it felt like the name he always wanted.
Monique isn't the only one whose experience with Armando has been something special. Gerardo, Monique's husband, says Armando is the son he always wanted. There are so many things that they spend time doing together, so many ways that they just "click." The most spectacular thing about their relationship according to Gerardo? They choose to have it, it is a parent-and-child relationship that was hand-selected, and that means something special to them.
If you ask Monique what Armando is like now, she can't say enough about her son. "It doesn't feel like work with him. The way he smiles and lights up when he gets to answer questions about his family and how many siblings he has. It's indescribable how someone so young can change us and influence us and teach us," says Monique.
Armando is constantly growing and changing – he is becoming who he was meant to be, and Monique and Gerardo couldn't be more proud. Monique says it best when she describes how she feels about his presence in their family, "He's supposed to be here… it's so hard to find the perfect words, but you don't have to have a child from the beginning for him to be your child."