Five Extraordinary Little Humans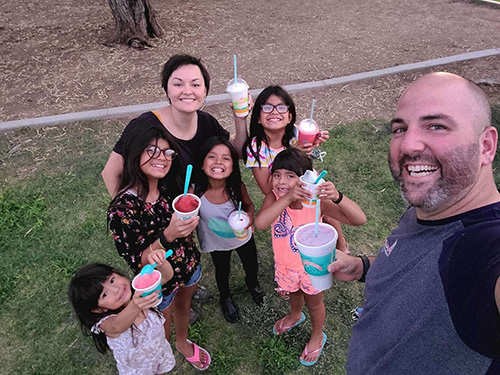 Eli and her husband Kyle have been together for 18 years and have always had a deep love for children. Their Christian faith and their ability to give a loving home to children that have faced challenges called them to adoption to reflect the love of God back into the world and the lives of these "kidlets," as they like to say. On the topic of children, Kyle always imagined they'd enjoy having two to three while Eli was settled on something closer to 10-12, and for a long time, the right time to adopt didn't come along for one reason or another. Until one day, it did.
As a child, Eli didn't grow up in the most stable of conditions and recalls being in a group home for a very brief time. During this time, she says, "I remember thinking I was going tell the caseworker whatever I had to in order to make sure we were able to go back home because I knew if we went into foster care long-term there was no way my four younger siblings and I would stay together." This experience reinforced the importance of keeping siblings together for Eli. They began outreach to several adoption agencies and were very clear about the desire to adopt a large sibling group. Unfortunately, they didn't hear back from any of them. Finally, one day they got in touch with an agency that was ready to help them find the children intended for them. They were matched with their daughters before their license even went through.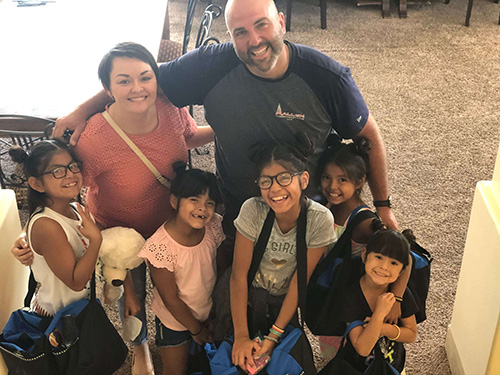 Their perspective on becoming parents gave them confidence in pursuing adoption from foster care. Eli says, "I didn't want to just be a mom to be a mom. I wanted to honor God and do whatever He wanted us to do, and we knew that was what God wanted us to do, so we were ready for the challenge." Kyle, having grown up with a different background and in a much smaller family, felt a little more intimidated than Eli to take on a larger sibling group, but ultimately, they knew that God would equip them. That's where Anahi, Bertha, Melinda, Marisela, and Maria came in. Overnight, Eli and Kyle grew their family by five little girls, each with their own VERY unique personalities.
Anahi is the oldest and a thoughtful, sweet soul. She is serious about her responsibilities, a dedicated student, and talented in just about everything she puts her hand to. Next is Bertha, a very funny and affectionate little girl who loves to sing and write songs. Eli and Kyle love to banter back and forth and Bertha jumps right in with her quick wit and silly nature. After Bertha is Melinda. Melinda is sassy and loves fashion and gymnastics. When describing Melinda, Eli says, "She is very emotionally intelligent. One day I was particularly stressed and being quiet. Melinda just stood and observed me for a moment and then said, 'Everybody listen up. Mom is very stressed, and we have not made this day easy on her! We need to start listening and get our chores done. This is our family, and we take care of family!'" After Melinda comes Marisela. Marisela is a little reserved until you get her to open, but when she does, she becomes very silly telling hilarious, animated stories until everyone is dying laughing. She can't help but to dance spontaneously when she's excited and loves teaching her younger sister, Maria, and playing games with her. Maria is the youngest, and as Eli puts it, "She is six going on sixteen. She is wise beyond her years and the first word Kyle and I taught her was 'manipulation' (or as Maria says it, "malipalation") because she knows how to put her cute face to work when she wants to get out of something, lol." Maria is also incredibly smart and dedicated to learning; higher-level math is something she has really has a love for.
Each girl is unique and special in their own way, but Kyle and Eli parent them all the same. Eli says,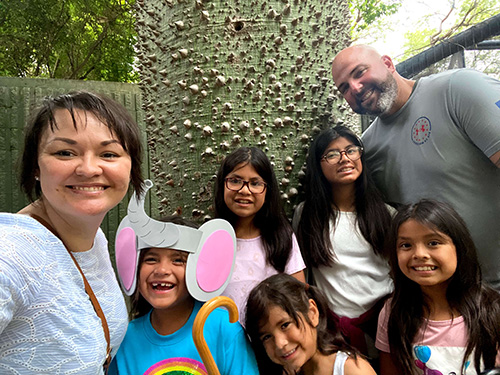 "They are capable little humans, and we treat them that way. They help around the house, they do their own laundry, they have lists and routines that they stick to. When you bring older children into your home you are bringing in kids that can be self-sufficient and you should teach them according to that. They've been in several homes with different kinds of rules or no rules at all, and you need to show them how to do things in your home. They've experienced a lot of extremes and are looking for that stability." For those considering adoption, she suggests a mindset that recognizes that kids only have so much time to learn how to be adults before they suddenly are one, and these kids have lost some ground on that front. "We need to make up for lost time, so coddling them won't help. We love them, nurture them, help them heal. But we also need to prepare them for adulthood. They're going to be adults a whole lot longer than they're going to be kids, and we don't want them spending their twenties and thirties trying to figure out how to resolve conflict, have a proper conversation, hold down a job, pay their bills, take care of their home, etc. We want them to be proficient in the study of adulthood before they become adults so they can apply those lessons and save themselves the drama we know they're in for otherwise.
Eli and Kyle instill confidence in the girls by giving them guidelines for things but empowering them to make decisions within those guidelines about what they wear, what they make for lunch, and resolving conflict between one another with sayings like, "work out your drama before you bring it to your mama." Eli says that for most conflicts the girls must spend 2-3 minutes actively trying to work things out before she'll hear either side and play referee. Seeing them become more self-sufficient has been a highlight for Eli and Kyle, knowing that they are growing into wonderful young women who will contribute great things to the world. Remembering that they'll one day be adults is key, Eli says, "Don't be intimidated by what skills they might be lacking when they come to you but see them each as opportunities to better equip them. And be grateful that those things are obvious enough for you to be able to address and course-correct in their youth when their lacking is far less consequential.  If we do that, I have every confidence that we'll get to see these kidlets grow up to become amazing adults that can in turn be an inspiration and mentor (or adoptive parent!) to other kids in need of that same guidance."