More Than a Case File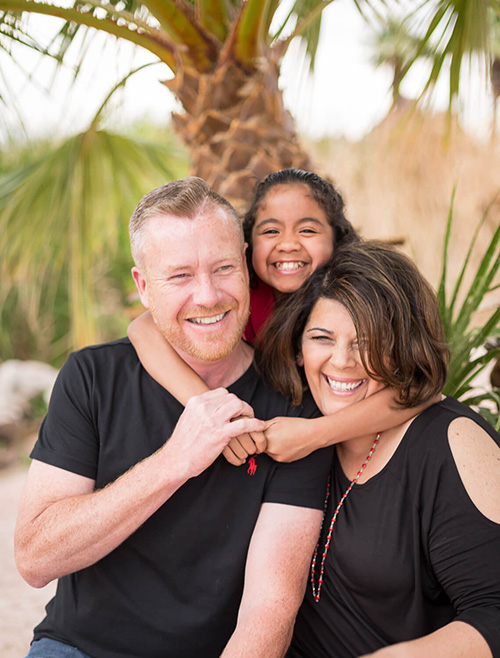 If you were to get to know the Boutelle family, it would become clear to you that Ken and Patty are the perfect complements to one another. Ken is pragmatic and grounded and Patty has always been the person who wants to help everyone. Married for 25 years, the Boutelle's have 4 beautiful children, 3 biological sons, and an adopted daughter – but they certainly went on a journey to get to this point. Both Ken and Patty work in education and have a place in their heart for children. Even before they were married, adoption was something they had discussed. As time went on and their second son came into the family, the topic of adoption started to be put on the back burner, by the time son number three came along it was off the table completely. 
Though they thought they'd put the topic to rest, the universe had other plans for them.  Patty and Ken's lives changed forever on the first day of school five years ago. That day is when Chrisette first walked into Patty's classroom. Patty felt an immediate connection to the little girl. In fact, the connection was so strong she told one of her teammates, "That's my daughter." Her teammate laughed and reminded her that Ken may not exactly agree. Patty remembers the day she met Chrisette like it was yesterday, "Her clothes didn't fit, her hair needed to be brushed, she didn't have snacks to eat during the day", says Patty. She felt the pull to help this little girl. One day, after being out of school for jury duty for a few days, she noticed her sweater was in Chrisette's desk. Come to find out it was because it smelled like Patty and Chrisette wanted that comfort in her absence. For Patty, that was it. 
Ken, on the other hand, needed some convincing. As he puts it, "My conniving wife said 'what do you think about adopting?'." Ken resisted and Patty tried another way in. "Okay, well what about being a mentor family?", said Patty. As the Boutelle family struggled with what to do, Chrisette's life moved forward and soon she was in a foster home with parents who intended to adopt her. Patty was heartbroken, Ken admittedly a little relieved. Less than a year later, fate intervened again. Patty wanted to take Chrisette for ice cream because she was about to be adopted. She ended up finding out that things with Chrisette's foster family weren't going to work out and she was going to be placed elsewhere. Patty thought it was fate, Ken was still adamant that adoption wasn't the right road for their family. Finally, Ken came around and they decided to see if Chrisette would fit in with the rest of the Boutelle clan.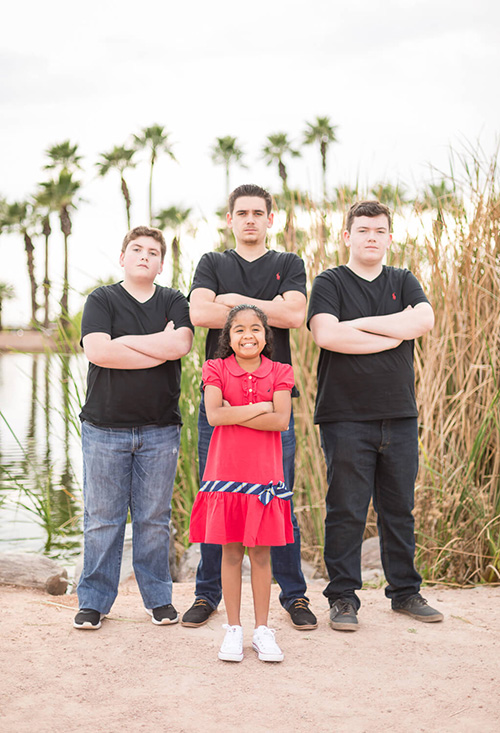 Chrisette came to the Boutelle home to swim one day with Ken and Patty's sons and spent the day getting to know them to see if she would fit in. Ken was insistent that it needed to be a family decision. He knew that Chrisette knew Patty as her teacher, but she wasn't familiar with the rest of the family. Though Ken had been opposed to it, Chrisette's snarky and sarcastic nature warmed him right up and she had him wrapped around her finger right away. The boys also loved getting to know Chrisette and, once she headed home, the family was ready to discuss bringing her in permanently. The oldest two boys said yes, but the youngest, Logan needed to spend more time with Chrisette to know for sure. One fateful day, Chrisette and Logan were playing video games together and Chrisette told him about her life. He came downstairs sobbing saying, "If we can provide her with a good family life, we should have her." All of the kids rallied and said "She's the right choice". 
Since then, Chrisette has become a part of the family and is treated like any other sibling by the boys. Her dreams of being a ballerina are being realized through dance lessons. She and the rest of the family have gone to counseling to become a healthy family unit, and everyone in the Boutelle household is surrounded by love. As Patty and Ken see it, "She was 9 when we got her so we have a short window to create a confident young woman. Luckily, now Chrisette has strong brothers to protect her and we will always be her safe space." Thanks to the hard work and amazing parenting of Patty and Ken, alongside DCS and their dedicated caseworker Kelley Allen, Chrisette is home in a place where she feels safe and secure.

When asked what they would tell parents considering adoption in the future, both Patty and Ken agree, "When you foster or adopt a kid, you are accepting everything that comes with them." Ken and Patty remember a time when Chrisette said, "I feel comfortable here because I don't feel like you're shopping for a dress, that if you don't like it you can give back to the store." This type of reinforcement that she belonged with them went a long way with Chrisette. They also say potential parents should know it gets better. Chrisette had a massive file when she first came to the Boutelle's and many of the things in that file might scare parents away, but at the root of them, it was clear that Chrisette just wanted to feel wanted. The key was not giving up. Chrisette today is a talkative and confident young woman and the Boutelle's believe anyone with the ability to open their home to a child should. Ken says it best when he says, "I go back to that case file, it was 6 inches thick of reasons not to and we didn't care, she was supposed to be with us."