Opening Her Home, Opening Her Heart: Amy Carney's Story
When Amy Carney was called to her journey into the child welfare system, she had no idea where it would lead her.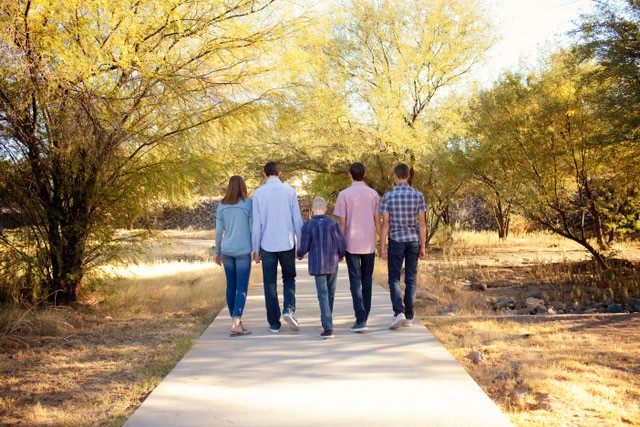 Beginning with a weekly read of Wednesday's Child in the Arizona Republic, continuing with a series of foster placements, mentorships and now, with an adoption, she credits both God and the Children's Heart Gallery, an Arizona Department of Child Safety resource that helps connect potential parents with children seeking adoption, with helping her decide to get involved.
"It's heartbreaking to see kids who don't have a family," she says, "how could I NOT do something?"
And do something, she did. First by inquiring into foster care. With months of training and preparation, she and her family welcomed their first foster placement.
It didn't go as planned.
The boy was struggling, and despite the family's best efforts, and was moved to a placement that would better fit his needs.
The pain of the situation nearly ended their time working with kids in the system – the sense of failure was just so strong.
But, little by little, Amy felt the call to try again. She and her family began by providing respite care, supporting foster families by giving them time to rest when they are traveling or just need a weekend off of the challenging work.
She also began mentoring teenagers in care, thinking it would be a less intense way to help. One day, as she visited one of her mentees, Amy overheard her group home staff discussing scheduling a cab to take the teen to an adoption event for the Children's Heart Gallery.
Amy had never heard of the event, but she figured at the very least, she could drive the teen so she wouldn't have to take a cab.
She had no idea that this simple decision would alter the course of her – and others – lives.
Once she arrived, Amy and her mentee walked around the event and began to understand what it was about. Amy remembers a big room, full of volunteers, foster parents and especially, kids.
All ages, all stages, all without a forever family to go home to.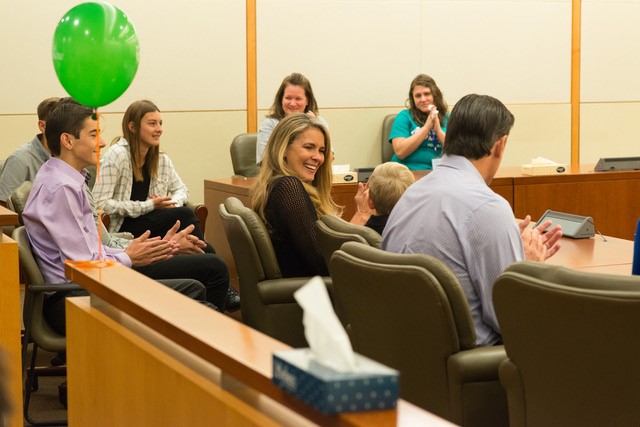 The kids were there for a last chance at adoption, having had other potential adoption opportunities fall through for various reasons already. While at the event, the kids were having their photo taken for a gallery, in hopes that someone would see their photo, read their profile, and end up becoming the adoptive parent they dreamed of.
She remembers feeling her heart break as she took in the scene.
Then, something happened that would change her life forever.
As they sat together, finishing up a game before their planned departure time, her mentee stopped to introduce Amy to a young boy. They had met while in associated group homes, and they were thrilled to see each other.
Amy looked into the boy's eyes and, at that moment, felt an immediate connection, an impression on her heart and direction from above that told her, "this is going to be your son."
She left that day to explain to her family what had happened. They were skeptical. Could they take another full-time child just as their teens were nearing college? Could they handle the inevitable tough times that would come from adopting a child?
Amy knew they could, and her family eventually got on board too, realizing the opportunity they had to improve a child's life, and their own.
A few months later, Nix was in their home as foster child, and four months after that, on National Adoption Day, he was their son.
Today, Amy's adopted son is thriving, living with their supportive family and being "loved on" by his doting brothers and sister.
Beginning with an article in the newspaper, coming full circle to adoption through the Children's Heart Gallery, this journey was one of opening hearts as well as homes.
Now, she's helping others open their hearts and homes to these opportunities through the Children's Heart Gallery and adoption venues.
Amy wouldn't change a thing.