Shine Bright Like a Dimon: How Adoption Made a Difference
According to Dimon Sanders, the abuse started when she was 6 years old. She recalls being locked in a freezer and tied to a tree. She said she watched her sister get thrown across the room. It was a daily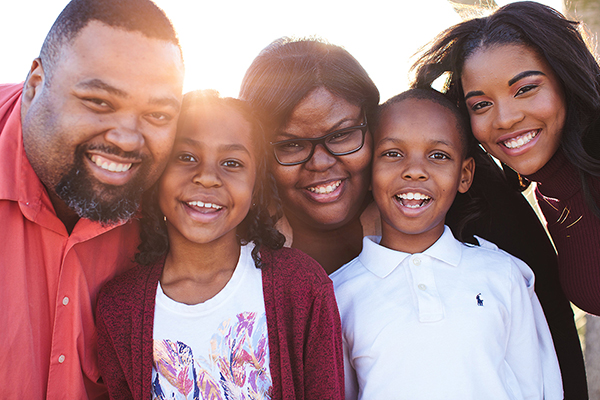 occurrence for Dimon until she was removed from the home of her biological parents at the age of 8, after the abuse was discovered. 
Dimon entered the foster care system. Between the ages of 8 and 13, she experienced 13 different placements — 13 placements with different rules, different curfews, different family dynamics, different values. She stopped caring about her grades. Adoption opportunities fell through. She acted out. 
Dimon was barely a teenager but was having to make decisions that could impact her future success. Would she run away from her group home? Would she shut down? And there, at the crossroads, she met Apache and Joshua Sanders, two incredible people who stepped up. 
Apache had known from a young age that she wanted to adopt. "I always knew that I wanted to adopt, just at the time I didn't know it would be a teenager," she said laughing. At the time Apache and her husband Joshua met Dimon, then 13, Apache said, "I was like 28 or 29, so having a 13-year-old wasn't a part of the plan." Nevertheless, Dimon and the Sanders family began to get to know each other. Then they began to trust in one another. The process took about a year. 
"At first, I felt skeptical because it's not common for someone to want to adopt a teenager," Dimon said. Plus, Dimon was worried that her at-the-time undiagnosed ADHD and need for supervision would affect the Sanders' desire to build a bond. 
Dimon said Apache learned more about her, including the need for medications and supervision, and still wanted to proceed with the adoption process. "That gave me hope that maybe this one wouldn't fail like my other ones did," Dimon said. And the hope continued. Dimon and Apache's bond grew stronger. Apache was able to be there, providing understanding and support for Dimon. 
When Dimon joined the Sanders family, she was also given the opportunity to pursue a passion she has long-loved – dance. "I started dance classes three years ago when I got adopted," Dimon said. "I've always had a love of dancing, but never had the money to take classes." Prior to taking a dance class, Dimon taught herself the basics, thanks to the internet. "YouTube was my best friend," she said. 
For all the credit Apache and Joshua deserve for helping Dimon find a permanent home, Apache also credits Dimon for her impact on the immediate and extended Sanders family. "Just as much as we changed her life, she changed ours. We can't imagine a time when she wasn't a part of our family."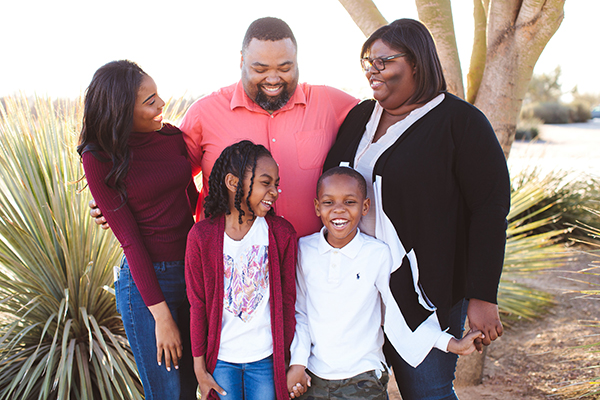 In the summer of 2017, Dimon was crowned Miss Arizona's Outstanding Teen, the first African American to win the competition. She is succeeding in school and has plans to attend college. She is open and honest, using her story to speak out as an advocate for foster care youth and the importance of community involvement. 
"For the past three years I've been working diligently to make sure there is awareness about the foster care system, that we increase the number of CASAs, and get more foster parents," Dimon said. "[I want] people to know how many kids are in the system so they can make a difference in some way." 
Increasing the number of volunteer Court-Appointed Special Advocates (CASAs) available to foster care youth is especially important to Dimon. Her CASA, Cynthia Dean, was there to support Dimon,  beginning when she was just 9 years old. And they continue to stay in touch. "If I didn't have a CASA, I probably would not have ended up where I am today," Dimon said. "She was my 'constant' on my journey through foster care, and my biggest advocate." 
Dimon is now a loving older sister to Akeelah, 8, and Joshua, 7, and has come a long way from the standoffish teen that Apache and Joshua met five years ago. "I would like to encourage people to take a chance on a teenager," advises Apache. "Don't write them off and feel like they can't be helped or are so damaged. Everybody wants and needs a family. Make your decision on a case-by-case basis and get to know the child. Keep your heart open, don't write off an age group."