Tons of Teens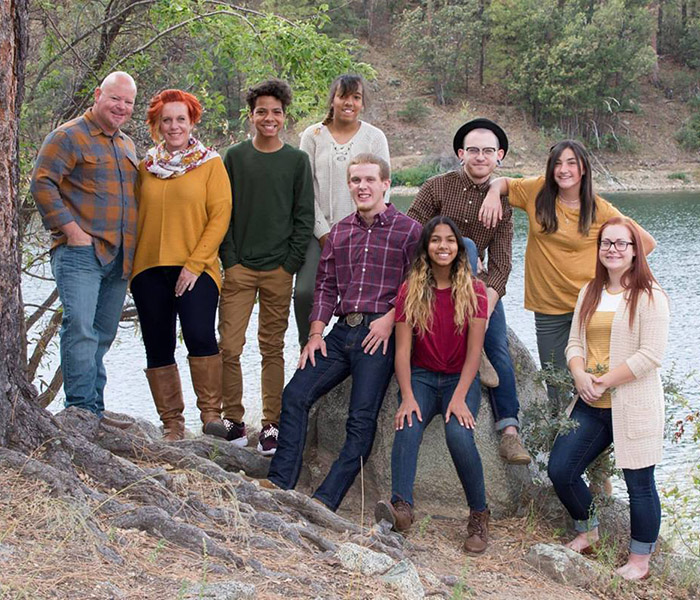 Julie Crane and her husband Jimm married young – they knew they were meant for each other and took the plunge. Julie was 17 and her husband only 20 when they tied the knot, but they were already thinking about a family. Later, they added two biological children, Tanner and Bailey, to their growing family. As a military family, they had a different kind of life, often moving around or dealing with Jimm's deployments.
In 2005, when Julie felt called to add to their family while living in North Carolina, she knew adoption was an option for them. Her husband was set to deploy again soon and was on the fence about growing their family through adoption. One day, as her husband was getting ready to deploy, the call that Julie had been waiting for came. There was a baby girl at the hospital born to a mother who couldn't care for her.
As Julie pondered whether she would take the baby in, she looked for a sign to tell her what to do. Luckily, God gave her just that. Jimm's ship had actually broken down earlier that day, just before the phone call came, leaving him unable to deploy. Julie and Jimm headed to the hospital to bring home this baby girl. Fast-forward to the present, and Breanna is now a happy and healthy 14-year-old and sweet addition to the Crane family.
Julie thought that might be the end of their adoption story, but soon realized that her heart was being pulled to adopt once again. By 2017, when Julie and her family had moved to Arizona, she had been hoping to consider adoption again and turned to God to give her a sign that she was on the right path.
As Julie puts it, "I asked God to have my husband call me and bring up adoption, so I would know it was right." Sure enough, her husband called and they decided this was the right path. Julie and Jimm applied for their license to foster and adopt. They decided they would open their home to the 0-9 age group and were looking to bring a younger child into their home. God, however, had other plans.
When Julie and Jimm met 17-year-old Danny, she knew he was meant to be a member of their family. He pulled at Julie's heartstrings and she couldn't see not bringing him into their home. This opened the floodgates for teenagers entering the Cranes' life. They went on to adopt 15-year-old Aleja and 13-year-old twins Givaunni and Alexa.
"These kids age out and never have the stability of a loving family," says Julie. Opening her home to teens just felt right..
If you're keeping track, Julie and Jimm now have a home filled with 5 teenagers, lots of noise, and so much love. Most days, Julie finds such a reward in being a place for these kids to call home. Other days she finds herself looking for strength in all the corners of her life, but she wouldn't trade it for the world. .
"You should be prepared for anything and everything – it will be overwhelming, but it is all worth it in the end," says Julie.
God called Julie and her family to the journey of adoption, which changed her family's life. He gave them the chance to be a place of refuge for the teens who needed them the most. Looking back, Julie knows that this was the path she was meant for and she wouldn't have it any other way.