"GO-TO" Guide for Foster and Kinship Caregivers
Go-to Guide
A "GO-TO" Guide for Foster and Kinship Caregivers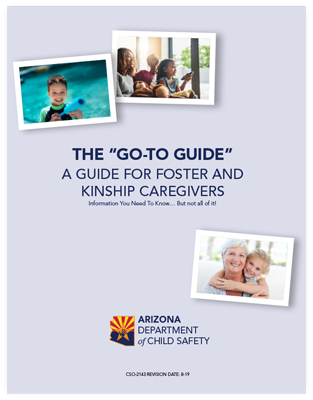 This Guide provides basic information about the child welfare system in Arizona to help you understand how children come into care, why they are there, and the rules and policies that have been created to protect children in out-of-home care. It has information about the roles and responsibilities of the people connected to the child welfare and court systems who may work with a child, his or her family, and your family.
The information in this guide is primarily focused on the needs of persons (adult caregiver givers and other household members) providing care to children in the custody of the Department of Child Safety (DCS). Each DCS caregiver should have a copy of the following resource handbooks and handouts. They are the must have reference guides for all families.
Title 21 Chapter 6, the Licensing Rules
DCS Discipline Policy Resource Guide
Mercy Care DCS CHP (Comprehensive Health Plan) Member Handbook
Confidentiality Guidelines for Foster Parents
Family Foster Home Agreement
Child Placement Rates and Special Allowances Approval Matrix (CSO 1109)
If you do not have copies of this information, please contact your licensing agency or DCS Specialist for assistance in obtaining these documents.
Foster and Kinship Caregivers with the Department of Child Safety (DCS)/Division of Developmental Disabilities (DDD) or Department of Health Services (DHS)/Regional Behavioral Health Authority (RBHA)/Home Care Treatment Care for Home Care Clients (HCTC) will need some or all of these reference guides in addition to the information specific to either program services.
Download the Full Go-To Guide
Disclaimer: This information is subject to change based upon the availability of new interpretations, new standards, new policies, federal and state laws, new eligibility requirements or services offered and other developments in the field. Please refer to the DCS, Mercy Care DCS CHP or other referenced web sites for the most current available information. The material provided on this document is designed for educational and information purposes only. This information is not inclusive of all terms, provisions, providers, services and/or support necessary to care for a foster child. There is no document available that will provide you with all of the information necessary to be a competent foster or kinship parent.