The Office of Prevention
The DCS Office of Prevention was established to prevent child abuse/neglect. To support the needs of children and strengthen families, the Office of Prevention collaborates with the Community, Service Providers, Stakeholders and the DCS Field Staff.  Through these collaborations, the Office of Prevention leverages resources, education, training and programs based on best practices to serve Arizona's children and families.
rESOURCE VIDEO LOOP
The DCS Office of Prevention compiled resources and videos to share in this video loop. The video contains 30 resources from around the state along with interviews from Arizona parents. It is intended to be used in offices or clinics where families can view it and benefit from the information. If you are interested in downloading a copy, please email [email protected] .
For more information about prevention programs, please visit the following pages:
Arizona Protective Factors Coloring Book launches for Prevention Month 2018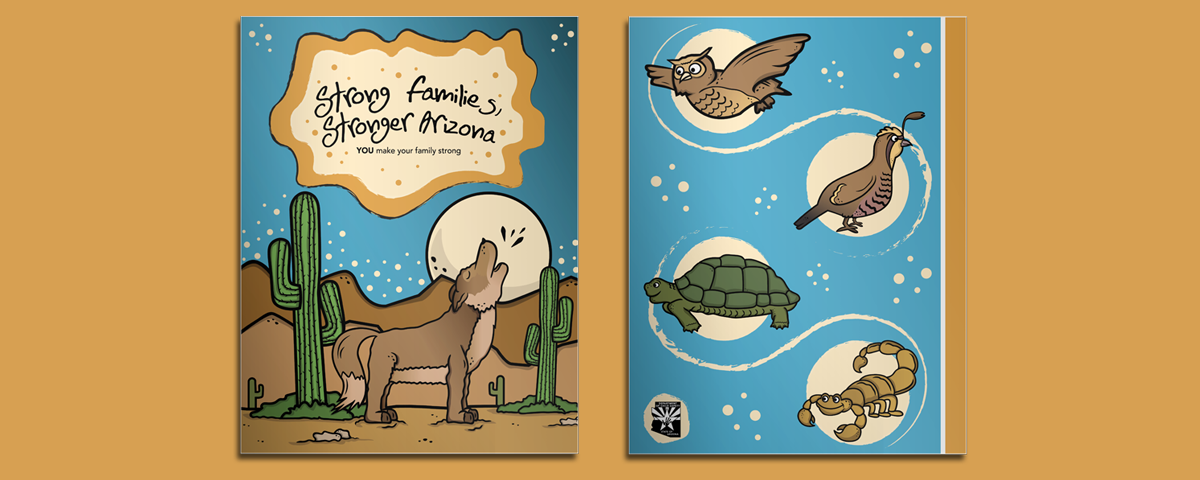 Download a Printable Version of the Coloring Book HERE
Reports
Brochures and Flyers
Resource Links
First Things First Family Resource Center Locator: familyresourceaz.org
Helpful Hotlines
Parent Assistance Center at Family Involvement Center.  Peer support and community referrals. 
1-877-568-8468 or [email protected]. All ages. English/Spanish, M-F 830a – 5p.
National Childhelp Hotline, 1-800-422-4453  All ages, 170 languages.  Counselor support and community referrals. 24/7. childhelp.org
Birth to 5 Helpline, 1-877-705-5437 Ages 0-5.  Masters level, child development/fussy baby experts and community referrals.  M-F 8a-8p.

Now, you can have the support of the Birth to Five Helpline at the touch of your fingertips! Download the Birth to Five Helpline app in the Apple App Store or on Google Play.

Parent Partners Plus. Expecting moms and ages 0-5 in Maricopa County, AZ.  Call 602-633-0732 or www.parentpartnersplus.com
Kinship Care Coalition.  Anyone caring for a child for a family member.  Call 888-737-7494 or

[email protected]

or www.azkincare.org  
211 Arizona.  All ages.  Call 2-1-1 within Arizona or 877-211-8661 M-F 7a – 6p or 211arizona.org
Find Help Phoenix- The website is divided into multiple categories of services/ resources: findhelpphx.org or email at

[email protected]

National Domestic Violence Hotline: 1-800-799-7233 (SAFE) or the website www.thehotline.org
Teen Lifeline  1-800-248-TEEN (8336). Texting services available- (602)248-TEEN (8336)
National Suicide Prevention Lifeline 1-800-273-8255
The National Sexual Assault Hotline is available 24/7: 1-800-656-HOPE (4673)
United We Dream Hotline: This hotline provides resources and support for undocumented communities. 1-844-363-1423
For daily resources and community events, follow our Facebook page, @AZCommunityResourcePage